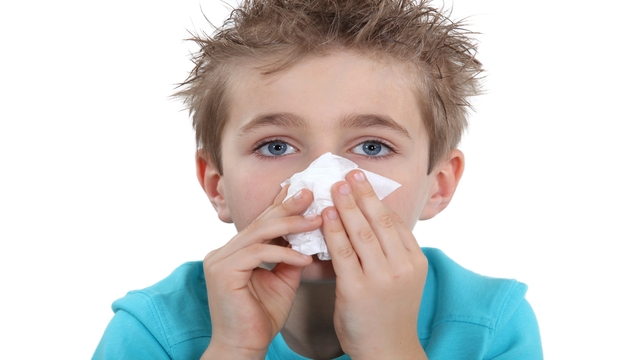 Auremar/PhotoSpin
Nosebleeds are quite common in children from 3-10 years of age. According to the American Academy of Pediatrics, for some children, it is normal to have several a week. Most nosebleeds do often stop on their own though, and can be safely taken care of at home. (2)
What causes nosebleeds?
Most nosebleeds in children are "anterior" nosebleeds. This is when the blood vessels inside the front of the nose break and bleed. (2)
The most common causes of anterior nosebleeds are:
• Dry air (air-conditioned or heated indoor air)
• Colds and allergies and irritation of the lining of the nose due to repeated nose-blowing
• An injury or blow to the nose
• Nasal polyps
• Certain medications
• Use of nasal prongs (cannula) during medical treatment
How do I treat a nosebleed and when do I need to call my doctor?
Contrary to popular belief you SHOULD NOT tilt your child's head backwards.
Instead:
• Reassure your child and keep calm
• Sit your child in a chair or hold your child upright and tilt his head slightly forward
• Gently pinch the soft part of the nose just below the bony ridge, with a tissue or clean washcloth
• Keep pressure on the nose for about 10 minutes
• Discourage nose-blowing, picking or rubbing, and any rough play following a nose-bleed. (2)
You need to call your child's doctor if ...
• there are frequent nosebleeds
• your child may have put something in his or her nose
• your child bruises easily
• your child bleeds heavily from minor wound or from other places, such as the gums
• your child has recently started taking new medication
You should also call the child's doctor if the bleeding ...
• lasts for longer than 20 minutes even with pressure applied to the nose
• is heavy
• is accompanied by dizziness or weakness
• is the result of a blow to the head in which case, seek emergency medical treatment.
How can I prevent nosebleeds?
• Keep fingernails short and clean
• Moisten the inside of the nose with saline nasal spray, or dab antibiotic ointment gently around the opening of the nostrils
• Humidify bedrooms with a cool mist vaporizer or humidifier (2)
Sources:
1) Chronic Nosebleeds: What to Do. American Academy of Pediatrics. HealthyChildren.org. Web. Aug 19, 2013.
http://www.healthychildren.org/English/health-issues/conditions/ear-nose-throat/pages/Chronic-Nosebleeds-What-To-Do.aspx?nfstatus=401&nftoken=00000000-0000-0000-0000-000000000000&nfstatusdescription=ERROR%3a+No+local+token
2) Nosebleeds. KidsHealth.org. Web. Aug 19, 2013.
http://kidshealth.org/parent/firstaid_safe/emergencies/nose_bleed.html#
3) Nosebleeds: First Aid. MayoClinic. Web. Aug 19, 2013.
http://www.mayoclinic.com/health/first-aid-nosebleeds/HQ00105
Reviewed August 19, 2013
by Michele Blacksberg RN
Edited by Jody Smith