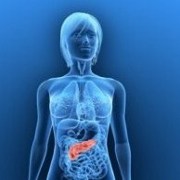 Photo: Getty Images
Autoimmune pancreatitis is an exceptional autoimmune condition. It is a rare form of chronic pancreatitis that affects men more often than women. Dr. Lizhi Zhang and Dr. Thomas C. Smyrk of the Mayo Clinic, Rochester, Minnesota, provided a review.
The diagnosis of autoimmune pancreatitis was first proposed in 1995, although a 1961 report identified the primary inflammatory nature of the condition.
Autoimmune pancreatitis (AIP) is difficult to distinguish from pancreatic cancer, Zhang and Smyrk reported. In fact, many cases have been diagnosed during surgery for what the doctors thought was cancer.
Symptoms of AIP include abdominal pain, weight loss, and jaundice. It may be associated with other autoimmune conditions including Sjogren syndrome and inflammatory bowel disease. When multiple organs are affected, the diagnosis is IgG4-related systemic disease.
The Mayo Clinic developed diagnostic criteria summarized by the nmemonic HISORt, which stands for Histology, Imaging, Serology, other Organ involvement, and Response to corticosteroid therapy.
Corticosteroid therapy is effective at treating AIP. Zhang and Smyrk concluded, "It is particularly important for surgical pathologists to be aware of this disease and to make the correct diagnosis; treatment with corticosteroids will result in rapid and sustained resolution without unnecessary surgical procedures."
Dr. Ryan Law and colleagues at the Cleveland Clinic in Ohio provided additional details. An estimated 4.6 to 6 percent of patients with chronic pancreatitis have the autoimmune condition.
Most patients are over 50 years old, with no history of alcohol abuse. Men are affected at twice the rate of women.
There are three strategies for diagnosing AIP, according to Dr. Luca Frulloni and colleagues at the University of Verona, Italy. The different strategies have been developed in Italy, Japan, and the United States.
There are two types recognized in the United States and Italy:
1. Lympho-Plasmacytic Sclerosing Pancreatitis (LPSP). This affects mainly older patients, who have more involvement of other organs and more relapses after corticosteroid therapy.
2. Idiopathic Duct-centric Chronic Pancreatitis (IDCP). Thich affects mainly younger patients, who have fewer relapses. Ulcerative colitis is generally the only other autoimmune condition associated with IDCP.
In Japan, only LPSP is considered to be an autoimmune disorder.
"The diagnosis of AIP still remains difficult," Frulloni concluded. "In some cases, only a full or significant response to steroids allows a final diagnosis of AIP to be made."
References:
1. Zhang L et al, "Autoimmune pancreatitis and IgG4-related systemic diseases", Int J Clin Exp Pathol 2010; 3(5): 491. http://www.ncbi.nlm.nih.gov/pubmed/20606730
2. Law R et al, "Autoimmune pancreatitis: a mimic of pancreatic cancer," Cleveland Clinic Journal of Medicine 2009 Oct; 76(10): 607. http://www.ncbi.nlm.nih.gov/pubmed/20007087
3. Frulloni L et al, "A practical approach to the diagnosis of autoimmune pancreatitis", World Journal of Gastroenterology 2011 April 28; 17(16): 2076. http://www.ncbi.nlm.nih.gov/pubmed/21547125
Linda Fugate is a scientist and writer in Austin, Texas. She has a Ph.D. in Physics and an M.S. in Macromolecular Science and Engineering. Her background includes academic and industrial research in materials science. She currently writes song lyrics and health articles.
Reviewed September 29, 2011
by Michele Blacksberg RN
Edited by Jody Smith
Tags: