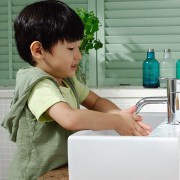 Photo: Getty Images
Teachers quickly reach the understanding that if their students are not happy and healthy, teaching and learning become difficult. Early one school year, it was clear that a student, who I will call David, was not thriving but suffering from obsessive compulsive disorder (OCD). This medical condition causes repetitive thoughts, which constitute the obsession part, and repetitive behaviors or compulsions, both of which are extremely difficult to control.
David's story started with an increase in tardy arrivals. He was usually a responsible elementary student who loved learning and being challenged. Suddenly, he was walking in our classroom door late, three or four times in a week. Next, he began taking long trips to the restroom. Once, after he returned, I heard a student at his table team ask him, "Why do you smell like soap?" When I questioned him about those trips, David nodded, but clearly did not want to discuss it. After about a week and a half, I placed a phone call home, but had to leave a message. I also alerted our school nurse, who also agreed to contact mom. Often, when health issues occur, parents are more comfortable speaking with the school nurse first.
One day, as we were lining up for lunch, I got quite a shock: David jumped in front of me, nearly stepping on my sandals, tears running down his face, and his arms crossed in front of him. He could barely speak through the sobs, "It hurts! I want to go to the bathroom but I can't at school!" As he lowered his arms, I noticed that the skin on his hands and arms, all the way up to his elbows, was pink. Right at the elbow, his skin was chapped in a big ring going around his arm. David and a trusted friend headed to the nurse's office while I quickly led the class to lunch recess.
After school that day, I planned to call David's mom to talk about what had happened with her son at lunch. Before I could pick up the phone, I got a call from his mother, who poured out the story. She had recently divorced, and David was not adjusting well to the new yearly schedule of summers with his dad and school years with his mom. In fact, the moving back and forth was a source of great anxiety for her son. The onset of his OCD was in the form of ritualistic hand washing that lasted 45 minutes some mornings, causing the late arrivals to school. OCD sufferers cope with anxiety or frustration by performing the same task or ritual over and over until they feel in control. Interestingly, it was not other people's germs David was concerned about. It was his own germs, sliding off of him and getting mixed up with other people's germs that warranted all the hand washing.
David is not alone in what he was experiencing. According to The Massachusetts General Hospital School Psychiatry and Resource Center, approximately 1 percent of children and adolescents suffer from this puzzling disease. Doctors believe that patients suffering from OCD are experiencing an imbalance of serotonin levels. This brain chemical sends and filters out messages to the brain. If the levels are out of whack, messages may get jumbled, little alarms sound in the brain, and the person begins to experience thoughts of unnecessary fear and anxiety. These thoughts trigger the obsession and compulsions. Treatment usually includes psychological and behavioral therapy, anti-depressants if symptoms do not improve through therapy, and parent education and guidance.
David began seeing an excellent child psychiatrist and behaviorist twice a week. Our own school psychologist helped me with strategies in the classroom. David and I had a special signal he could use if he felt the need to get away from his desk and take a walk through the school building to relieve tension. He was permitted to use the bathroom in the nurse's office and a timer was set so that his hand washing was limited to five minutes. The school psychologist wrote up a plan to allow for accommodations during standardized testing days. David's psychiatrist also prescribed medications, and within a few weeks, we saw improvement.
An important lesson I learned from this experience with David is that a child or adolescent suffering from OCD should be carefully monitored for depression. The obsessive thoughts and compulsive behaviors are real and the child is not simply being defiant or "worrying needlessly." A calm demeanor, patience, quiet structure, and frequent communication to his mother were all important factors for his success in the classroom.
Interestingly, around the same time I was learning about David, my own son Patrick started exhibiting behaviors that are also common in OCD. He has given me permission to tell his story here, which I will do in a future article.
Sources:
http://www2.massgeneral.org/schoolpsychiatry/info_ocd.asp
http://kidshealth.org/teen/your_mind/mental_health/ocd.html?tracking=T_RelatedArticle#