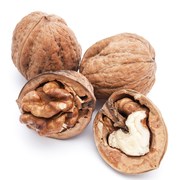 Mexrix/PhotoSpin
Are you looking for a nutritious snack or way to jazz up a recipe? Look no further than the power of walnuts.
Walnuts have a lot of health benefits and, according to an article on ScienceDaily.com, they help with brain function.
"Diets containing two percent, six percent, or nine percent walnuts, when given to old rats, were found to reverse several parameters of brain aging, as well as age-related motor and cognitive deficits."
The study was conducted by the U.S. Department of Agriculture Human Nutrition Research Center at Tufts University in Boston.
The study said that this could be due to the walnuts' ability to fight inflammation.
"Walnuts contain alpha-linolenic acid (ALA), an essential omega-3 fatty acid, and other polyphenols that act as antioxidants and may actually block the signals produced by free radicals that can later produce compounds that would increase inflammation."
A small study has indicated that this particular member of the nut family could also help you start a family.
According to an article on HuffingtonPost.com, "University of California, Los Angeles researchers found that men who ate 75 grams of walnuts daily -- about two handfuls' worth -- in addition to their regular diets had an improvement in semen quality, compared with men who didn't eat the nuts."
Walnuts could also help in fighting breast cancer. A study out of Marshall University also featured on the site stated, "eating walnuts every day seemed to halve the risk of mice developing breast cancer."
Here are some of my favorite original recipes featuring the wonderful walnut!
ASPARAGUS CHICKEN SALAD
• 6 ounces chicken breast cooked and sliced
• 1 cup of romaine lettuce
• 1/2 cup of fresh chopped asparagus
• 1 tbsp. of rice vinegar
• Dash of soy sauce
• 1 tsp. of olive oil
• Salt and pepper to taste
• 1/2 cup chopped walnuts
Combine all ingredients and serve cold.
WALNUT CRUSTED CALAMARI W/ BRUSCHETTA SPREAD
Serving Size – 8 ounces
• Frozen calimari rings
• ½ cup of walnut meal or chopped walnuts (usually found in nut aisle at grocery or health food store)
• 2 diced tomatoes
• ¼ cup fresh basil
• 2 tbs. olive oil
• Salt and pepper
• Garlic powder
Thaw frozen calimari rings.
Stir-fry for 4-5 minutes in large skillet.
Add walnut meal or chopped walnuts.
In separate bowl mix chopped tomatoes, fresh basil, salt, pepper & garlic powder.
Serve over calimari.
PROTEIN PARFAIT
• 1 tsp. all natural peanut butter
• 1 cup of Greek yogurt
• 1 scoop of vanilla whey protein
• 1 tbsp. of walnuts
• 1 tbsp. of raisins
• Dash of cinnamon
• 1 packet Splenda or Stevia sweetener
Mix yogurt, whey, peanut butter and sweetener together. Sprinkle nuts, raisins and a dash of cinnamon on top.
Sources:
"Diet Of Walnuts, Blueberries Improve Cognition; May Help Maintain Brain Function – ScienceDaily.com." Science Daily. Web 6 Nov. 2012.
http://www.sciencedaily.com/releases/2007/11/071106122843.htm
"Walnuts Could Improve Sperm Quality, And 5 Other Health Benefits Of The Nut – HuffingtonPost.com." Huffington Post. Web 6 Nov. 2012.
http://www.huffingtonpost.com/2012/08/18/walnuts-sperm-quality-health-benefits_n_1791710.html
Reviewed November 7, 2012
by Michele Blacksberg RN
Edited by Jody Smith