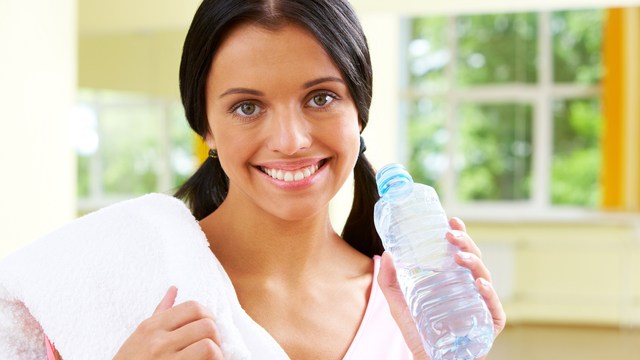 MonkeyBusiness Images/PhotoSpin
When gearing up for your summer road trip make sure your fitness routine does not take a backseat. Many of us head out of town whether it be for business or for pleasure.
Whatever your destination or mode of transportation, be sure not to take a detour and be derailed from your typically healthy routine.
According Reuters, a poll on Trip Advisor showed that while on vacation, more than 50 percent of travelers take time to work out. I also advise to take time to know whether you will access to a place to work out such as a gym or hotel fitness room. In fact, according to the Mayo Clinic, "A little dedication and planning can help you stay in shape when you're traveling."
MensHealth.com also offers some advice and resources in finding a hotel that "works out" for you.
"Book the right hotel. Visit www.fitforbusiness.com. The site rates the top hotel workout facilities in 280 cities around the world and provides a list of hotels that offer free access to local health clubs."
They also suggested hiring a professional to keep you accountable. "If you're staying in an upscale hotel, call the concierge and ask him to contact a trainer for you."
While many hotels offer a fitness facility, there are also some easy travel fitness items which can help you stick to your routine. One such item is called the FitKit. It features an exercise band, resistance tube, jump rope and stability attachment.
Another travel savvy tool is the TRX Suspension Training System. I happen to be certified in this. TRX is the original bodyweight-based portable training tool that builds strength, balance, flexibility and core stability for people of all fitness levels.
This is the TRX Training Philosophy: "The body is an interconnected chain of muscles. Every movement we perform is a whole-body movement. That's why TRX Training uses tools and movements that challenge the entire body in every plane of motion."
The American College of Sports Medicine advises that you should be conscientious about your current fitness routine and not try to up it while traveling.
"Because travel can be so disruptive to your normal schedule as well as other adjustments you must make (e.g., sleeping accommodations, food), this is NOT the best time to work on increasing your fitness level. Instead, the goal should be maintenance of your current fitness level."
Sources:
" Staying fit when your workout takes a holiday |Reuters.com. Web 16 July 2013.
http://www.reuters.com/article/2011/08/08/us-fitness-holidays-idUSTRE7771HO20110808
"Travel workout: Fitness tips for business travelers - MayoClinic.com." Mayo Clinic. Web 16 July 2013.
http://www.mayoclinic.com/health/exercise/HQ01556_D
"The Hotel Gym is A Joke – MensHealth.com. Men's Health. Web 16 July 2013.
http://www.menshealth.com/mhlists/stay_fit_during_travel/The_Hotel_Gym_is_a_Joke.php#ixzz2ZFYcbWQH
"FitKit For the Busy Traveler – FitKit.com." FitKit. Web 16 July 2013.
http://www.fitkit.com/default.aspx
"Who We Are – Training Philosophy – TRXTraining.com." TRX Training. Web 16 July 2013.
http://www.trxtraining.com
http://www.trxtraining.com/discover/who-we-are/training-philosophy
"Exercise While Traveling - by Leonard A. Kaminsky, Ph.D – ACSM.Com." The American College of Sports Medicine. Web 16 July 2013.
http://www.acsm.org/docs/current-comments/exercisewhiletraveling.pdf
Joanne Sgro-Killworth is a Television Fitness Expert, Certified Personal Trainer and Sport Nutritionist. She is Certified in Pilates, Pre-natal/Post-Partum, Yoga and Senior Fitness. She specializes in Weight Loss, Post-Rehab and Post Cancer Training.
Joanne's fitness plans and recipes are available globally on her website www.fitnessanswer.com/ She resides in the Phoenix, AZ area with her husband and son, where she runs her personal training business, Fitness Answer, LLC.
Reviewed July 18, 2013
by Michele Blacksberg RN
Edited by Jody Smith
Tags: