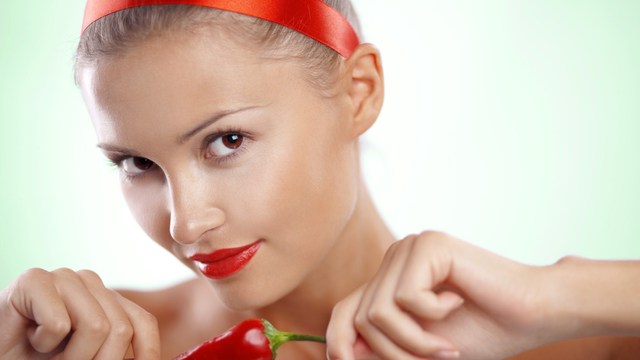 Alena Ozerova/PhotoSpin
Think fireworks, when it comes to planning your July Fourth menu. The spicier the better, in terms of flavor and potential weight loss, says Self.com. In fact, the site says that the added spicy flavor may help you stay on track with your diet while boosting your metabolism.
"Studies show that the main compound in chilies, called capsaicin, has a thermogenic effect and may cause the body to burn bonus calories for 20 minutes post chow-down."
According to LiveStrong.com, heating it up with spicy food can actually help you cool down. "It produces perspiration that lowers the body temperature when it evaporates, and increases the heat of the skin that senses a lower contrast between itself and the outside air."
Here are some of my FIRE STARTER FAVORITES with a Dessert Cooldown from my original recipes:
BABY SHRIMP ZUCCHINI ROLL-UPS
2 Zucchinis sliced thin lengthwise
6 Ounces of peeled and de-veined baby shrimp
2 Tablespoons of olive oil
Dash of cayenne pepper
Garlic powder
Pinch of salt
Coat zucchini with olive oil, season with garlic and salt.
Grill zucchini on indoor or outdoor grill.
Grill shrimp.
Line shrimps on eggplants, roll up and serve.
SPICY CHICKEN EGGPLANT KABOBS
6 Ounces of chicken
½ Small eggplant, diced
1 Red bell pepper cut into thick strips
2 Tablespoons of red pepper spread (found in ethnic food aisle)
Prepare grill.
Mix chicken with pimiento sauce.
Thread the chicken, cubed eggplant and peppers onto skewers.
Grill kabobs, turning frequently until cooked through.
PIMENTO PORTOBELLO BURGER
6 Ounces of 90 percent lean ground beef
1 Tablespoon of olive oil
1 Tablespoon of red pepper spread (usually found in ethnic food aisle)
1 Slice of pepper jack cheese
1 Portobello mushroom cap
Mix together ground beef and pimiento spread and form patty.
Cook thoroughly in medium skillet on both sides.
Top with a piece of pepper jack cheese.
Serve open-faced on a portobello mushroom cap
JALAPENO TURKEY BURGER
8 Ounces of lean ground turkey
1 Tablespoon of olive oil
¼ Teaspoon of garlic powder
1 Small jalapeno, chopped fine
2 Slices of Swiss cheese
Mix together turkey meat with garlic powder, jalapeno and olive oil.
Form two small burgers.
Cook over medium heat, flipping over until juices run clear.
Top with Swiss cheese.
Serve with side spinach salad with balsamic vinaigrette.
Red, White, Blue & Whey Parfait
• 1 Cup of Greek yogurt
• 1 Scoop of vanilla whey
• ½ Cup of strawberries
• ½ Cup of blueberries
Mix yogurt and whey together.
Layer yogurt and fruit alternately in dessert glass.
Sources:
"5 Hidden Health Benefits of Spicy Foods – Jenny Everrett – Self.com." Web 2 July 2013.
http://www.self.com/blogs/flash/2010/09/5-healthy-benefits-of-eating-s.html
"What are the Health Benefits of Spicy Foods- LiveStrong.com." Live Strong. Web 2 July 2013.
http://www.livestrong.com/article/440445-what-are-health-benefits-of-spicy-food/#ixzz2XuZvKTQ9
Joanne Sgro-Killworth is a Television Fitness Expert, Certified Personal Trainer and Sport Nutritionist. She is Certified in Pilates, Pre-natal/Post-Partum, Yoga and Senior Fitness. She specializes in Weight Loss, Post-Rehab and Post Cancer Training.
Joanne's fitness plans and recipes are available globally on her website www.fitnessanswer.com/ She resides in the Phoenix, AZ area with her husband and son, where she runs her personal training business, Fitness Answer, LLC.
Reviewed July 2, 2013
by Michele Blacksberg RN
Edited by Jody Smith