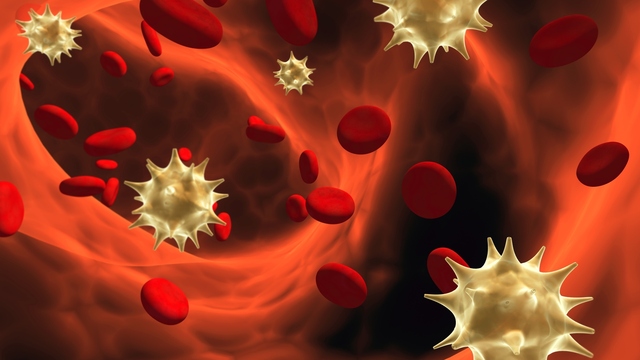 Lukiyanova Natalia/PhotoSpin
Although it's a rare condition, multiple myeloma is the second most common type of blood cancer. It begins in a type of white blood cells called plasma cells. Plasma cells are part of your immune system, and help protect the body from germs and other harmful substances.
As a result of multiple myeloma, cancer cells collect in the bone marrow and in the solid parts of bones often causing bone pain in the back or ribs, weakness and fatigue, thirst, weight loss, and frequent fevers or infections.
Rather than producing helpful antibodies as normal plasma cells do, the cancer cells crowd out healthy white blood cells and generate abnormal proteins that can also cause acute kidney problems, according to the National Cancer Institute.
No one knows the exact cause of multiple myeloma, but it appears to be more common in African Americans and among older people in general . It can also run in families.
To date, there's still no cure, but there is good news on emerging treatments.
Researchers at the 56th American Society of Hematology (ASH) Annual Meeting and Exposition, held Dec. 6-9, 2014 in San Francisco, reported that new treatment combinations and targeted therapies are improving outcomes for patient populations with multiple myeloma.
One example is the recently approved targeted treatment carfilzomib. It has shown promise in helping to slow or halt the spread of cancer by targeting the mechanisms that control excess proteins multiple myeloma cells rely on for continued growth.
According to lead study author A. Keith Stewart, MD, of Mayo Clinic Arizona in Scottsdale, who presented the findings at the ASH annual meeting, carfilzomib adds to an increasing number of precision approaches that are shifting the treatment paradigm away from chemotherapy.
Stewart says the current global standard of care for patients with relapsed or treatment-resistant multiple myeloma is a combination of a drug called lenalidomide which works by targeting the immune system and the steroid dexamethasone.
He wanted to determine whether adding carfilzomib combined with standard therapy might improve treatment responses in these patients.
For the study, a global research team enrolled 792 patients from 20 countries in a Phase III clinical trial, randomizing them to receive the standard two-drug combination or the standard combination plus carfilzominb.
He reported in an interim analysis, the group treated with the three-drug combination exhibited a slower rate of cancer progression (26.3 months) compared to the standard treatment group (17.6 months).
The difference in overall response rates in the two treatment groups was also significant. Researchers reported 87.4 percent in the three-combination drug group benefited from the treatment, compared to 66.9 percent in the standard treatment group.
Importantly, despite the addition of a third drug to the regimen, there was no dramatic increase in toxicity in the study group.
"By adding carfilzomib to the gold standard in multiple myeloma therapy, we are observing an unprecedented duration of remission without additional toxicity, a promising outcome in relapsed and heavily pre-treated patients," said Stewart in a written statement.
"We hope that the results of this trial will lead to approval of this treatment combination in patients with relapsed multiple myeloma worldwide."
Onyx Pharmaceuticals, Inc., an Amgen subsidiary, supported the study. Dr. Stewart has consulted with Onyx but has not received personal compensation. He has served as a consultant with Celgene, Novartis, Bristol-Myers Squibb and Sanofi Aventis.
Sources:
Multiple Myeloma Facts. Medline Plus. Accessed online Dec. 9, 2014 at
http://www.nlm.nih.gov/medlineplus/multiplemyeloma.html
Unprecedented benefit seen in test of three-drug treatment for multiple myeloma. Joe Dangor. Mayo Clinic Press Release, Dec. 6, 2014. Available online: http://www.eurekalert.org/pub_releases/2014-12/mc-ubs120514.php
Reviewed December 10, 2014
by Michele Blacksberg RN
Edited by Jody Smith