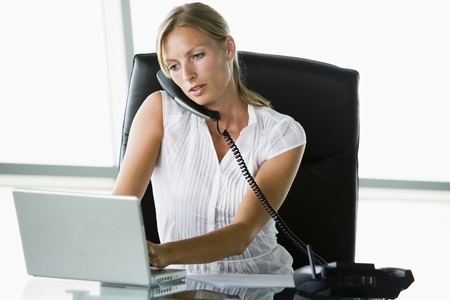 MonkeyBusiness Images/PhotoSpin
If you work significantly more than 40 hours every week and find it hard to detach yourself from work after hours, you've probably been told by at least one person that you're a "work addict" or "workaholic."
Although this might be fairly common in today's society, there is still plenty of research to be done. In fact, a new study just came out this month showing the prevalence of workaholism in Norway.
The authors defined workaholism as "being overly concerned about work, to be driven by strong and uncontrollable work motivation, and to spend so much energy and effort into work that it impairs private relationships, spare-time activities and/or health."
Results showed that 8.3 percent of the employees were considered to be workaholics, and young adults and caretakers for children were more likely to be workaholics.
There are also several personality traits positively associated with workaholism: neuroticism, agreeableness and intellect/imagination.
Researchers used a nationally representative survey of 1,124 Norwegian employees. These employees were sent a questionnaire to complete via mail.
Researchers measured workaholism using the Bergen Work Addiction Scale (BWAS), and also used the Mini-International Personality Item Pool (Mini-IPIP ) to determine personality traits related to workaholism.
The BWAS looks at seven aspects of workaholism, which is similar to how addiction is determined:
1) Salience (preoccupation with work)
2) Mood modification (using work to escape or avoid dissatisfaction)
3) Conflict (work ends up conflicting with other aspects of life and one's needs)
4) Withdrawal (dissatisfaction if work is prohibited)
5) Tolerance (Having to work more to keep feeling better)
6) Relapse (Returning to above behaviors even after a period of improvement)
7) Problems (Other areas of life are negatively affected due to work, such as health and relationships)
The items on the scale are each measured from (1) "never" to (5) "always." Using this scale, it is determined that someone is a workaholic if they answer using a (4) "often" or (5) "always" on a minimum of four out of seven items.
Ramani Durvasula, a licensed clinical psychologist, said in an email that she agrees with how the study authors define workaholism.
She added that there are a variety of reasons people become workaholics, including these four reasons:
1) They are rewarded for working via promotions, money and praise.
2) They feel a sense of control from working.
3) They were taught by their parents that work ethic is highly valued.
4) They use work as a way of "displacing feelings."
Although Durvasula doesn't believe workaholism should be considered an addiction, it could be associated with other mental health issues.
"It is likely that workaholism may be seen in people with obsessive compulsive personality disorder or who have significant traits of this disorder - where adherence to work in an almost rigid way is frequently seen," she said.
"It is also potentially a defense against managing other kinds of psychological feelings that feel uncomfortable (work blindly instead of dealing with feelings)."
The study authors found that young adults tend to be workaholics at a higher prevalence than other age groups, and Durvasula thinks this is due to a societal change and the economy.
"The 9-5 world has been replaced by a more flexible and accessible world through devices, e-mail, Internet, etc.," she said. "So the boundaries between work and life have become blurred and all but non-existent."
The economy is also up and down, and unemployment is a scary reality for many. Many people, especially young adults who are struggling to get their first stable job, now believe that "excessive work" is necessary to keep a job.
"The blind pursuit of wealth and status, which characterizes American society, has also likely contributed to the relative epidemic of workaholism in younger vs. older adults," Durvasula added.
Here are seven of Durvasula's tips to get out of a workaholic state of mind:
1) "Boundaries, boundaries and boundaries."
2) "Be clear on what needs to be done."
3) "Make time for what is important."
4) "Power down whenever possible and turn off the devices."
5) "Spend time with other people and connect."
6) "Try to get to the core of what you may be avoiding through all of this work."
7) "Reflect on what work means and what the true goal of all this work is."
Sources:
Andreassen CS, Griffiths MD, Hetland J, Kravina L, Jensen F, et al. (2014) The Prevalence of Workaholism: A Survey Study in a Nationally Representative Sample of Norwegian Employees. PLoS ONE 9(8): e102446. doi:10.1371/journal.pone.0102446
http://www.plosone.org/article/info%3Adoi%2F10.1371%2Fjournal.pone.0102446
Durvasula, Ramani. Email interview. August 19, 2014.
http://www.doctor-ramani.com/index/about
Reviewed August 29, 2014
by Michele Blacksberg RN
Edited by Jody Smith