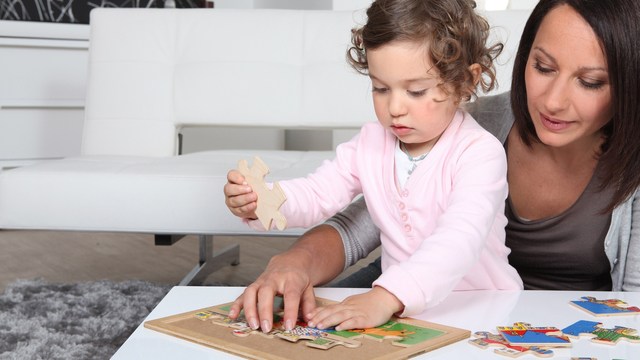 Auremar/PhotoSpin
Just in time for April's National Autism Awareness Month, the Centers for Disease Control and Prevention revealed that the prevalence of autism in the United States has increased.
Data shows that an estimated 1 in 68 children have been diagnosed with autism spectrum disorder. This is an increase from 2012's estimates that 1 in 88 children had autism.
Children diagnosed with autism also have on average higher levels of intelligence now compared to the past several years, according to the CDC report.
The report added that autism is consistently more common in boys than girls. For instance, only 1 in 189 girls have autism compared to 1 in 42 boys.
A recent study published in the American Journal of Human Genetics may explain why autism occurs less often in women. Researchers found that women with neurodevelopmental disorders like autism generally have more genetic mutations than men.
Therefore, researchers believe that it takes more genetic mutations to trigger autism in women, which suggests that they are protected from autism. However, since autism tends to be harder to diagnose in women, participants might have only included the most severe cases.
Although these findings are important, autism involves much more than scientific intrigue.
Celina Miller, an advocate for the organization Autism Speaks and the mother of a child on the autism spectrum, said in an email that she hopes as part of the awareness month that people begin to realize autism's impact on families.
Women tend to have a lead role as the caregiver in families, so they face many challenges when caring for children with autism, and need support from family and friends.
"Autism not only impacts the child diagnosed, but siblings and parents as well," Miller said. "Siblings may have difficulty understanding the complexities of autism."
Marriages or romantic relationships can also be impacted by autism.
"My husband and I intentionally focus on our relationship and keep it a priority," Miller said. "Life with a child affected with autism can bring special challenges. We choose to face these challenges as a team."
One hope for the future is that researchers can shine a light on why certain groups of people are more at risk for autism, and what medical professionals can do to treat patients who are at risk.
Dr. Barry Sears, founder of the Inflammation Research Foundation and author of "Zone Perfect Meals in Minutes," said in an email that recent research points to issues in fetal development leading to autism.
He suggested that women partake in an anti-inflammatory diet to reduce potentially harmful changes in fetal neurological development, including neurological inflammation.
Mothers can also take supplements of EPA and DHA, he said.
Dr. Cecelia McCarton, founder and executive director of the McCarton Foundation for Developmental Disabilities, said in an email that she believes autism is more prevalent now because of more awareness.
Also, autism's definition has changed over time to be more inclusive, and children who might have been diagnosed with a different developmental disorder now fall under the umbrella of autism spectrum disorder.
In regards to how symptoms of autism appear in women, she said that she doesn't believe there are major differences in how women and men present with autism because there is a wide spectrum of behaviors and symptoms for both genders.
Susan Wood, co-founder and executive director of the Hope Center for Autism, said in an email that she does believe women exhibit some different symptoms of autism than men, which could be related to gender socialization.
"A woman living with autism sometimes has very subtle symptoms," Wood said. "She may appear to be a recluse or depressed, and is most likely immature. Growing up, girls with autism often escape into fiction and live in other, imaginary worlds, causing relationships to suffer."
Other symptoms for women include an "inability to decipher social innuendos," slower thinking/responses due to processing delays, disorganization, inability to maintain jobs, and anxiety. Women also might be better than men at copying social skills.
"I believe that people on the autism spectrum have the ability to live fully-functional lives, given the ability to do so," Wood said. "Teach to their learning style, early and intense interventions and generalization of skills to all environments."
Sources:
Autism Society. National Autism Awareness Month. Web. April 3, 2014.
http://www.2d-hosting.com/autism-society/get-involved/national-autism-awareness-month
Centers for Disease Control and Prevention. CDC estimates 1 in 68 children has been identified with autism spectrum disorder. Web. April 3, 2014.
http://www.cdc.gov/media/releases/2014/p0327-autism-spectrum-disorder.html
Jacquemont, Sebastien et al. The American Journal of Human Genetics. A Higher Mutational Burden in Females Supports a "Female Protective Model" in Neurodevelopmental Disorders. Web. April 3, 2014.
http://www.cell.com/ajhg/abstract/S0002-9297%2814%2900059-7
ScienceDaily. Girls protected from autism, study suggests. Web. April 3, 2014.
http://www.sciencedaily.com/releases/2014/03/140324121408.htm
Miller, Celina. Email interview. April 2, 2014.
http://www.celinamiller.com
Sears, Barry. Email interview. April 2, 2014.
http://zonediet.com
McCarton, Cecelia. Email interview. April 2, 2014.
http://mccartonfoundation.org/people/cecelia-mccarton-m-d
Wood, Susan. Email interview. April 2, 2014.
http://www.hopecenter4autism.org
Reviewed April 4, 2014
by Michele Blacksberg RN
Edited by Jody Smith