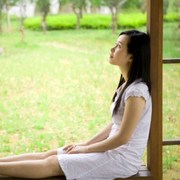 Top Photo Group/Thinkstock
Dating while coping with a mental illness can be difficult though it can be rewarding at times. But even dating without a serious mental illness diagnosis can also impact your mental health.
Mental health experts explain just how close the relationship between dating and mental health can be. If you're interested in how that relationship becomes more complex with a mental illness, you can read my other article about the topic at https://www.empowher.com/mental-health/content/mental-health-issues-dati...
Reef Karim, a board-certified psychiatrist and author of "Why Does He Do That? Why Does She Do That?" said in an email that dating and mental health are deeply intertwined.
"When you date and you have feelings for another person and have to deal with each person's needs and resolving conflict, you are forced to deal with your own 'stuff' - how you handle stress, how you deal with anger, how you deal with love, etc.," Karim said.
"How we handle emotions is a very big piece of mental health and it's often front and center when we are in dating or in a relationship."
Dating can actually be part of a self-discovery process, and encourages people to look at themselves in a deeper way. People have to start asking questions about how they function and what their weaknesses or faults are, since that could affect relationships with other people.
"Your chances of being in a healthy relationship depend on many factors, including who you're dating, where you are in your life, the timing and particularly your ability to be in a relationship," Karim said.
"Your mental health doesn't have to be perfect but you do need to know/learn some basic things about yourself, your partner and how to deal with stress, conflict and compromise."
He added that although there can be a diverse combination of couples, and there is generally someone for everyone, people with the same level of mental health generally do end up together. Also, once people find love, they need to learn how to maintain it and develop a lasting relationship.
"We all desire connection with each other - as family, friends or love interests," Karim said.
"Just because you have a mental health problem does not mean you shouldn't find love and a relationship. It might be a bit more challenging but it can happen. A partner can lend emotional support or bring about a feeling of confidence in a person with a mental health disorder."
Lori Freson, a licensed marriage and family therapist, said in an email that everyone has issues to some extent, it's just a matter of the severity and whether or not you're addressing them.
"I agree that it is important to have your issues in check before you date, but let's be real," Freson said. "I've never met anyone who doesn't have some issues lingering and hiding inside. We all do. Everyone deserves to be their best self, and owes it to the people around them too. If you are unstable, it is not a good idea to date. But many stable people have mental disorders. I think people need to be honest, though, and not try to hide what their issues are from loved ones."
She added that sometimes dating can introduce new mental health issues that need to be worked out.
"Dating can make just about anybody seem like they have mental problems. It messes with your brain, you don't think very clearly, and bad endings often lead to depression, substance abuse, and all sorts of other bad things," Freson said. "Coming in with problems can often leave the other person confused and cause hurt feelings."
What is your experience with dating and mental health? Share below in the comments.
Sources:
Karim, Reef. Email interview. June 26, 2012.
http://www.thecontrolcenter.org/ Twitter: @DrReef
Freson, Lori. Email interview. June 26, 2012.
http://lorifresontherapy.com
Reviewed June 29, 2012
by Michele Blacksberg RN
Edited by Jody Smith