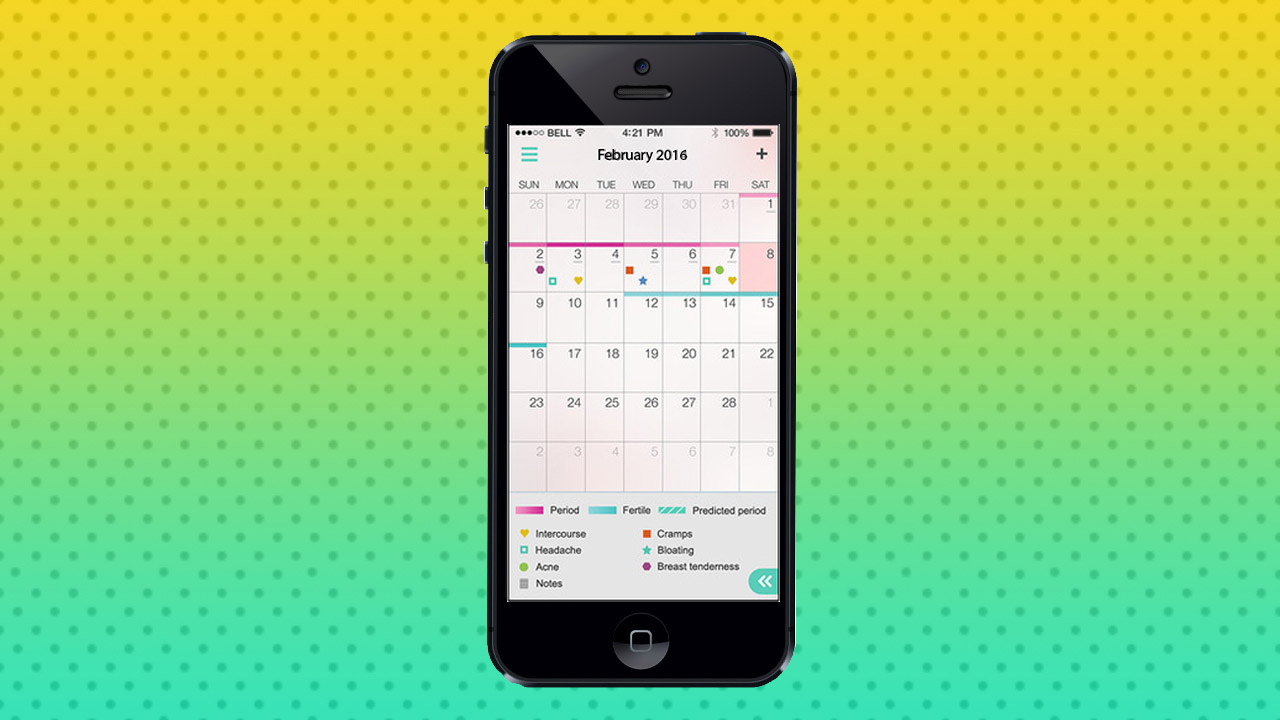 Graphic by Aydali Campa
Keeping track of our time of the month is not as tedious anymore now that we can use our smart phones to remind us that that it is right around the corner. Whether you are trying to conceive or you simply want to be reminded of when Aunt Flow is coming, there is an app for all of your health needs. They are out there and they're free! Here are seven of the best apps for women's health you can try now for free according to your needs and interests.
1. Simplicity – Period Tracker Lite (iOS & Android)
Unless you decide to purchase the deluxe version, Period Tracker Lite only has the essentials for period tracking, making it very simple and easy to use. It is as easy as tapping "period just started!" and then "period ended!" when it's over.
2. Scientific – Clue (iOS & Android)
If you prefer a more sophisticated and discrete design, Clue has a great user interface that makes it easy to use even with more features and data available than the Period Tracker Lite. Clue focuses on the science behind your menstrual cycle without pink flowery designs.
3. Fertility – Fertility Friend (iOS & Android)
Fertility Friend helps the user identify her fertility window, the days when conception is possible, according to her period and other fertility signs like basal body temperature (BBT), cervical fluid and symptoms. You can even follow your pregnancy on the integrated Pregnancy Tracker.
4. Personalization – Period Tracker by Sevenlogics, Inc. (iOS only)
If you want an app that can keep up with your moods and personality, then try a more customizable app. This period tracker allows you to customize it with pictures, fonts, themes and even music, making period tracking a more personal and fun.
5. Reminders – MyPill (iOS & Android)
MyPill will help you make sure you never miss a pill again. It has special reminders for when to take the pill and then logs the times you have taken it. And because hydration is super important for your body too, myPill has a reminder for that too!
6. Education - Eve by Glow (iOS & Android)
Glow, Inc. calls Eve by Glow "the app for women who want to take control of their sex lives," because it is an all in one menstrual cycle tracker app that also educates the user in sexual, menstrual and reproductive health. Learn from women who have been there and done that by asking questions in their Epic Community section.
7. Community – My Cycles Period Tracker (iOS & Android)
This app is the more grown-up version of Eve by Glow. It is educational too, but it is targeted towards women who already know a little more basics of menstrual and sexual health. Most of its community discussion is about fertility as a lot of its users are trying to conceive. A good feature is that it easily syncs with other health apps and devices like Fitbit and the Apple Health App.
Editing Note: This article did not filter through the normal EmpowHER editing and fact checking process. It was checked for spelling and grammar.
Read more in Being HER