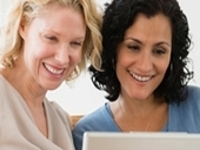 Sponsored and created by Noven Therapeutics, LLC.

It's time to think about change in a whole new way! It's realizing that a new life phase might not be a door closing but a door opening. There are some things that you can do—some basic and some you might not have thought about — to empower yourself and celebrate the changes in your life.

Here are a few tried and true ways to get a jump-start:
Eat well, get plenty of rest, and avoid excess caffeine, alcohol, and sugar
Use relaxation techniques, such as rhythmic breathing exercises, yoga, and regular exercise
Find a support group where you can discover what others are doing to celebrate their menopause
Here are a few more ways to celebrate your new sense of freedom:
If there's something you've been putting on hold, there's no time like the present to see what life has to offer. It's never too late to get a start on realizing your aspirations
Laugh—yes, laughter is still good medicine. It can even boost your immune system, help you with learning and memory, and help you celebrate the changes in your life
And, don't forget to put yourself first. It's the most precious gift you can give to yourself
Hot flashes are common for women during and after menopause. But, that doesn't mean you have to take it. Here are a few tips that may help offer some relief:
Wear lighter clothing and dress in thin layers
Keep the room temperature cool or use a fan
Get regular physical exercise. If you do 20 minutes of exercise even 3 times a week, it can be good for your overall health and, yes, lessen the severity of hot flashes
Drink cold beverages rather than hot ones
Avoid potential triggers, such as spicy food, caffeine, smoking, and alcohol
It's your moment to celebrate
"Life is not measured by the breaths we take, but by the moments that take our breath away."-Anonymous
A feeling of relief
If hot flashes are getting in the way, your doctor may prescribe you an estrogen therapy to treat them.
New prescription Minivelle™ (estradiol transdermal system), the planets smallest estrogen therapy patch, offers effective relief from moderate to sever hot flashes and night sweats due to menopause. Minivelle™ comes from the same manufacturer as Vivelle-Dot®.
Minvelle™ also offers these features:
Is 34% smaller than Vivelle-Dot®, and the 0.0375 mg/day dose is about the size of a dime
Stays in place even when you shower and exercise
Comes in a round shape to help prevent lifting or snagging associated with everyday wear
Causes almost no skin irritation and leaves almost no sticky residue behind
Only needs to be applied twice a week
Only your doctor can decide if an estrogen therapy is right for you. So talk to your doctor about prescription Minivelle™ today!
Visit www.minivelle.com for more information on prescription Minivelle™, and learn how you can SAVE BIG on this small patch.*
* For eligible patients only. Restrictions may apply. See offer for the full terms and conditions.
-----
INDICATION
MINIVELLE™ (estradiol transdermal system) is a prescription medicine patch that contains estradiol (an estrogen hormone). MINIVELLE is used to treat moderate to severe hot flashes due to menopause.
IMPORTANT SAFETY INFORMATION
What is the most important information I should know about MINIVELLE (an estrogen hormone)?
Using estrogen-alone may increase your chance of getting cancer of the uterus (womb). Report any unusual vaginal bleeding right away while you are using MINIVELLE. Vaginal bleeding after menopause may be a warning sign of cancer of the uterus (womb). Your healthcare provider should check any unusual vaginal bleeding to find out the cause
Do not use estrogen-alone to prevent heart disease, heart attacks, strokes or dementia (decline in brain function)
Using estrogen-alone may increase your chance of getting dementia, based on a study of women 65 years of age or older
Using estrogens with progestins may increase your chances of getting heart attacks, strokes, breast cancer, or blood clots
Using estrogens with progestins may increase your chance of getting dementia, based on a study of women 65 years of age or older
You and your healthcare provider should talk regularly about whether you still need treatment with MINIVELLE
MINIVELLE should not be used if you have unusual vaginal bleeding, currently have or have had certain cancers, had a stroke or heart attack, currently have or have had blood clots, currently have or have had liver problems, have been diagnosed with a bleeding disorder, are allergic to MINIVELLE or any of its ingredients, or think you may be pregnant.
The most common side effects that may occur with MINIVELLE are headache, breast tenderness, back and limb pain, common cold, upset stomach, nausea, inflammation of the sinuses and irregular vaginal bleeding or spotting.
MINIVELLE should be used at the lowest effective dose and for the shortest duration consistent with your treatment goals and risks.
Click here for the full Prescribing Information, including Boxed WARNING.
You are encouraged to report negative side effects of prescription drugs to the FDA. Visit www.fda.gov/medwatch/ or call 1-800-FDA-1088.
Minivelle™ and the graphic design are trademarks of Noven Therapeutics, LLC.
All other registered trademarks are the property of their respective owners.
For more information, visit www.minivelle.com or call 1-800-455-8070.
© Noven Therapuetics, LLC. 2013. All rights reserved. For U.S. Audience Only. MINI-XXXX 1/13.