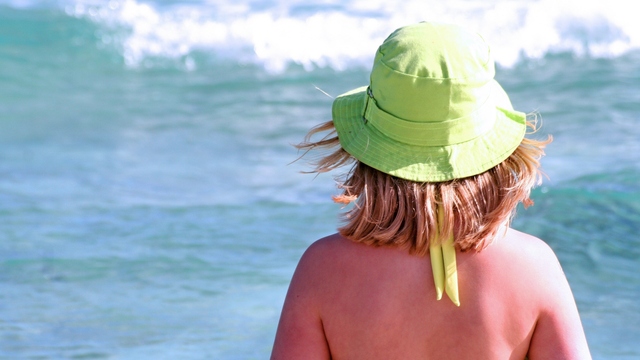 Yvonne Bogdanski/PhotoSpin
When it comes to protecting children's delicate skin against melanoma, the most deadly type of skin cancer, some parents who rely on sunscreen may be getting a false sense of security according to a new groundbreaking study.
Experts agree that applying sunscreen with at least SPF 15 and full spectrum ultraviolet UVA and UVB protection to your child's skin every time he or she goes outside is a sound practice.
However, sunscreen alone does not necessarily avert sunburn, a major risk factor for melanoma.
In fact, the study found that about half of parents who themselves are melanoma survivors fail to optimally follow sun protection recommendations for their children.
Research shows that children of survivors are at increased risk for developing the disease as adults.
UCLA researchers were led by Dr. Beth Glenn, associate director of the UCLA Jonsson Comprehensive Healthy and At-Risk Populations Research Program. They surveyed 300 Latino and non-Latino white melanoma survivors with children ages 17 and younger.
The participants were observed over a three-year period about their attitudes towards melanoma prevention, how at risk for melanoma they believed their child to be, and their current use of sun protection strategies for their child.
Participants were identified through the California Cancer Registry, which tracks all cases of cancer across the state.
This is the first study to focus on children of Latino and non-Latino white melanoma survivors. Latinos have often been left out of skin cancer prevention research due to a common misconception that sun protection is not important for this group.
UCLA researchers found that parents in the study relied on sunscreen to protect their child against sun exposure, and 43 percent of parents surveyed reported that their child experienced sunburn in the past year.
"Sunburns were common among the children in our study despite their elevated risk for skin cancer. Also, children of Latino survivors were just as likely as children of non-Latino white survivors to have experienced a recent sunburn, which highlights the importance of including this group in our work," said Glenn, who is also an associate professor of Health Policy and Management in the UCLA Fielding School of Public Health.
Even fewer parents reported that their child wore protective clothing, a hat or sunglasses, or attempted to seek shade when exposed to the sun.
Just a few serious sunburns in the early years can increase your child's risk of skin cancer later in life.
Experts say kids don't have to be at the pool, beach, or on vacation to get too much sun. Their skin needs protection from the sun's harmful ultraviolet (UV) rays whenever they're outdoors.
"Protecting kids against the sun's harmful rays at an early age is vitally important. [Given this information] our goal is to develop an intervention that will help parents protect their children today and help children develop sun safe habits that will reduce their risk for skin cancer in the future," said Glenn.
To learn more about optimal sun protection for you child, visit www.cdc.gov/cancer/skin/basic_info/children.htm
The UCLA study was published online January 13, 2015 in the journal Cancer Epidemiology, Biomarkers & Prevention. The research was supported in part by the National Cancer Institute.
Sources:
Sun Protection Practices and Sun Exposure among Children with a Parental History of Melanoma. Cancer Epidemiol Biomarkers Prev January 2015 24:169-177; doi:10.1158/1055-9965.EPI-14-0650 Cancer Epidemiology, Biomarkers & Prevention. Published online 13 Jan. 2015.
Abstract at:
http://cebp.aacrjournals.org/content/24/1/169.abstract?sid=6e1d1473-9892-417f-9aef-6339e50d23a4
New Research Shows Children of Melanoma Survivors Need Better Protection from Sun's Harmful Rays. UCLA Press Release.
Access online:
http://newsroom.ucla.edu/releases/children-of-melanoma-survivors-need-better-protection-from-suns-harmful-rays-ucla-research-shows
Protecting Children from the Sun. Fact Sheet. Centers for Disease Control and Protection.
Access online at:
www.cdc.gov/cancer/skin/basic_info/children.htm
Treating Sunburn in Children. Skin Cancer Foundation.
Access online at:
http://www.skincancer.org/prevention/sunburn/treating-sunburn-in-children
Reviewed January 14, 2015
by Michele Blacksberg RN
Edited by Jody Smith