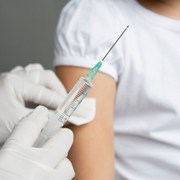 Creatas Images/Thinkstock
The Atlanta-based Centers for Disease Control and Prevention (CDC) stunned many parents with the release of a recent report that found measles, a disease many thought was eradicated long ago, is now at a 15-year high in the number of cases in the United States.
Many parents are choosing to not vaccinate their children, fearing potential harmful side effects, but the vast majority of cases are coming into the United States from foreign-born people.
In 2011, there were 222 cases of this highly infectious, vaccine-preventable disease, and 17 outbreaks. This is nearly quadruple the typical number of cases in the United States.
But the majority of cases do not come from Americans. In fact, 90 percent of the new measles cases in 2011 could be traced back to countries with low immunization rates. The cases were found throughout the United States, in 31 of the 50 states.
This news came to light during World Immunization Week, which is a time period dedicated to informing people around the world about the importance of immunizations.
The UN Foundation, founded by billionaire businessman Ted Turner, launched a brand new campaign called [email protected] specifically to help combat outbreaks like the measles outbreaks experienced in 2011.
This initiative aims to increase awareness and funding for childhood vaccinations in developing countries so those children have a shot at life, but also to help keep these vaccine-preventable diseases from coming to U.S. shores.
Measles is one of four diseases the [email protected] campaign is focused on. They believe that low immunization rates in countries around the world not only kill children unnecessarily, but can also affect children in the United States, as the measles outbreak seems to suggest.
Though no one in the United States has died from measles since 2008, about 1/3 of those who contracted the disease were hospitalized. Worldwide, twenty million people contract measles and approximately 164,000 people will die of the disease each year.
In 2012, there have already been 27 confirmed cases in the United States and two outbreaks, most of them imported from foreign visitors or Americans traveling abroad.
The Centers for Disease Control and Prevention estimates that 90% of American children receive the necessary vaccines against measles, which is one reason the number of U.S. cases is relatively low.
For those who don't receive the measles vaccine and are then exposed to it (such as infants under 12 months old and therefore too young for the vaccine) the disease can be quite dangerous, with devastating ramifications.
The CDC encourages all Americans to vaccinate their children against measles so if the children are exposed to the disease, they won't be affected.
Sources:
Reuters.com. Web. Published 20 April 2012. "Measles cases reached 15 year high in 2011: CDC".
http://www.reuters.com/article/2012/04/20/us-usa-health-measles-idUSBRE83J0X020120420
WebMD.com. Web. Published 19 April 2012. "US measles cases quadruple in 2011."
http://children.webmd.com/vaccines/news/20120419/us-measles-cases-outbreaks-quadruple-in-2011
ShotatLife.org. Web. 30 May 2012. "About us".
http://shotatlife.org/about-us
Reviewed May 31, 2012
by Michele Blacksberg
Edited by Jody Smith