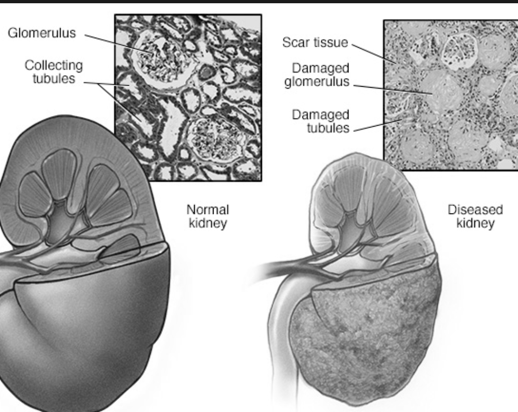 The list of individual drugs that cause kidney damage is so long that it's hard to decide on the top ten. So I've chosen to list them by type of drug: antibiotic, analgesic, etc.
Top ten drugs that cause kidney damage:
1. Antibiotics, including ciprofloxacin, methicillin, vancomycin, sulfonamides.
2. Analgesics, including acetominophen and non-steroidal anti-inflammatory drugs (NSAID): aspirin, ibuprofen, naproxen, and others available only by prescription.

4. Heartburn drugs of the proton pump inhibitor class, including omeprazole (brand name Prilosec), lansoprazole (brand name Prevacid), pantoprazole (brand name Protonix), rabeprazol (brand names Rabecid, Aciphex), esomeprazole (brand names Nexium, Esotrex). See Ref. 4.
5. Antiviral drugs, including acyclovir (brand name Zovirax) used to treat herpes infection, and indinavir and tenofovir, both used to treat HIV.
6. High blood pressure drugs, including captopril (brand name Capoten).
7. Rheumatoid arthritis drugs, including infliximab (brand name Remicade); chloroquine and hydroxychloroquine, which are used to treat malaria and systemic lupus erythematosus as well as rheumatoid arthritis.
8. Lithium, used to treat bipolar disorder.
9. Anticonvulsants, including phenytoin (brand name Dilantin) and trimethadione (brand name Tridione), used to treat seizures and other conditions.
10. Chemotherapy drugs, including interferons, pamidronate, cisplatin, carboplatin, cyclosporine, tacrolimus, quinine, mitomycin C, bevacizumab; and anti-thyroid drugs, including propylthiouracil, used to treat overactive thyroid.
For many prescription drugs, you can find the full prescribing information online. This information is typically 10 – 30 pages long, and includes detailed precautions, warnings, and adverse effects. To find it, do a search for the name of your drug. Find the web site provided by the manufacturer. In most cases, it's just the brand name of the drug with a ".com" added. Then find the link to "prescribing information" and click on that.
For over-the-counter drugs, be sure to observe the precautions on the label. Keep your doctor informed of what you're taking, especially if you have risk factors for kidney disease (see Ref. 2) or other health conditions.
by Linda Fugate, Ph.D.
References:
1. Loh AHL, Cohen AH, "Drug-induced Kidney Disease – Pathology and Current Concepts", Ann Acad Med Singapore 2009;38:240-50.
2. https://www.empowher.com/news/herarticle/2009/09/02/top-ten-risk-factors-chronic-kidney-disease
3. https://www.empowher.com/news/herarticle/2009/10/26/what-nsaids-do-your-kidneys
4. https://www.empowher.com/news/herarticle/2009/09/09/rare-serious-side-effect-heartburn-drugs
Linda Fugate is a scientist and writer in Austin, Texas. She has a Ph.D. in Physics and an M.S. in Macromolecular Science and Engineering. Her background includes academic and industrial research in materials science. She currently writes song lyrics and health articles.