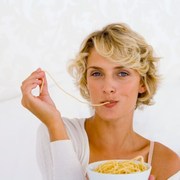 Goodshoot/Thinkstock
A low-residue diet, sometimes accompanied by the words "low-fiber diet," is a serious undertaking and one that is usually prescribed by a doctor for a number of digestive conditions.
Instead of filling your meals with the typically endorsed high-fiber foods such as multigrain breads and cereals, nuts, and raw and dried fruits, you are concentrating on foods that are easily digestible to relieve certain symptoms in your gut. Less fiber residue contributes to fewer and less-bulky bowel movements.
Notably, patients with Crohn's disease, ulcerative colitis and diverticulitis will intermittently commit to low-residue diets to lessen symptoms, even though the diet is not a cure for these chronic conditions. Sometimes a short-term low-residue diet will need to follow intestinal surgery.
Crohn's disease and ulcerative colitis are the two major inflammatory bowel diseases. Patients have to work hard to keep IBD under control and thus prevent diarrhea, abdominal pain and cramping, gas, fever, rectal bleeding, fatigue and anemia.
The Crohn's and Colitis Foundation of America urges IBD patients to maintain a healthy diet with a wide range of foods. Certain foods can aggravate symptoms, but a food diary and the help of a nutritionist can pinpoint the reasons behind a flareup.
The CCFA emphasizes that dietary adjustments are often temporary, as most IBD patients absorb food normally. When the inflammation affects the lower small intestine, or ileum, however, a narrowing can occur, and that's when a low-residue diet can lessen abdominal pain and other symptoms.
Foods such as raw fruits, certain vegetables, seeds, nuts and corn hulls can become hard to break down and leave a residue in the stool. A "low-fiber with low-residue diet," as the CCFA terms it, avoids these foods. When the inflammation dies down through medical treatment or surgery, you can return to a variety of foods.
A list of foods for low-residue diets on WebMD includes such items as white bread, saltines, puffed rice cereal, noodles, well-cooked or canned vegetables, certain peeled fruits, eggs, lean and tender meats, cooked potatoes and puddings.
See the website's page for low-residue diets for sample menus.
http://www.webmd.com/ibd-crohns-disease/low-residue-diet-foods/
A low-residue diet may be in the cards if you have diverticulitis, an inflammation of the small pouches along the wall of your colon. Diverticulitis causes abdominal pain, fever, bloating, gas, diarrhea or constipation, nausea and lack of appetite.
While it's theorized that a high-fiber diet helps prevent diverticulitis, you might need a short-term low-residue diet when your diverticulitis symptoms flare up. Treatment for acute pain may include antibiotics, a liquid diet and a slow return to a high-fiber diet.
Aside from the occasional use of a low-residue diet for inflammatory bowel disease and diverticulitis, doctors may prescribe it for a partial intestinal obstruction.
While a complete intestinal obstruction is life-threatening and usually requires surgery, a partial one can sometimes resolve itself with a liquid or low-residue diet, says the National Digestive Diseases Information Clearinghouse. The diet takes some strain off the digestive system in breaking down food particles.
Intestinal obstructions can occur when abdominal adhesions -- tissues and organs that somehow get stuck together -- leave the intestine kinked or twisted. The resulting obstruction affects the passage of food or stool and causes severe abdominal pain and cramping, vomiting, bloating, loud bowel sounds, inability to pass gas, and constipation. Blockages can be diagnosed through an X-ray, a lower GI series and other means.
Remember that with any digestive disease, it's best to receive nutritional counseling from a health care professional.
Sources:
"Abdominal Adhesions." National Digestive Diseases Information Clearinghouse. Web. 21 March 2012. http://digestive.niddk.nih.gov/ddiseases/pubs/intestinaladhesions/index.aspx
"Diet and Nutrition." Crohn's & Colitis Foundation of America. Web. 21 March 2012.
http://ccfa.org/info/diet?LMI=5.2
"Low-Residue Diet." WebMD. Web. 21 March 2012.
http://www.webmd.com/ibd-crohns-disease/low-residue-diet-foods
"Diverticulitis - Treatment Overview." WebMD. 21 March 2012. http://www.webmd.com/digestive-disorders/tc/diverticulitis-treatment-overview
Reviewed March 22, 2012
by Michele Blacksberg RN
Edited by Jody Smith