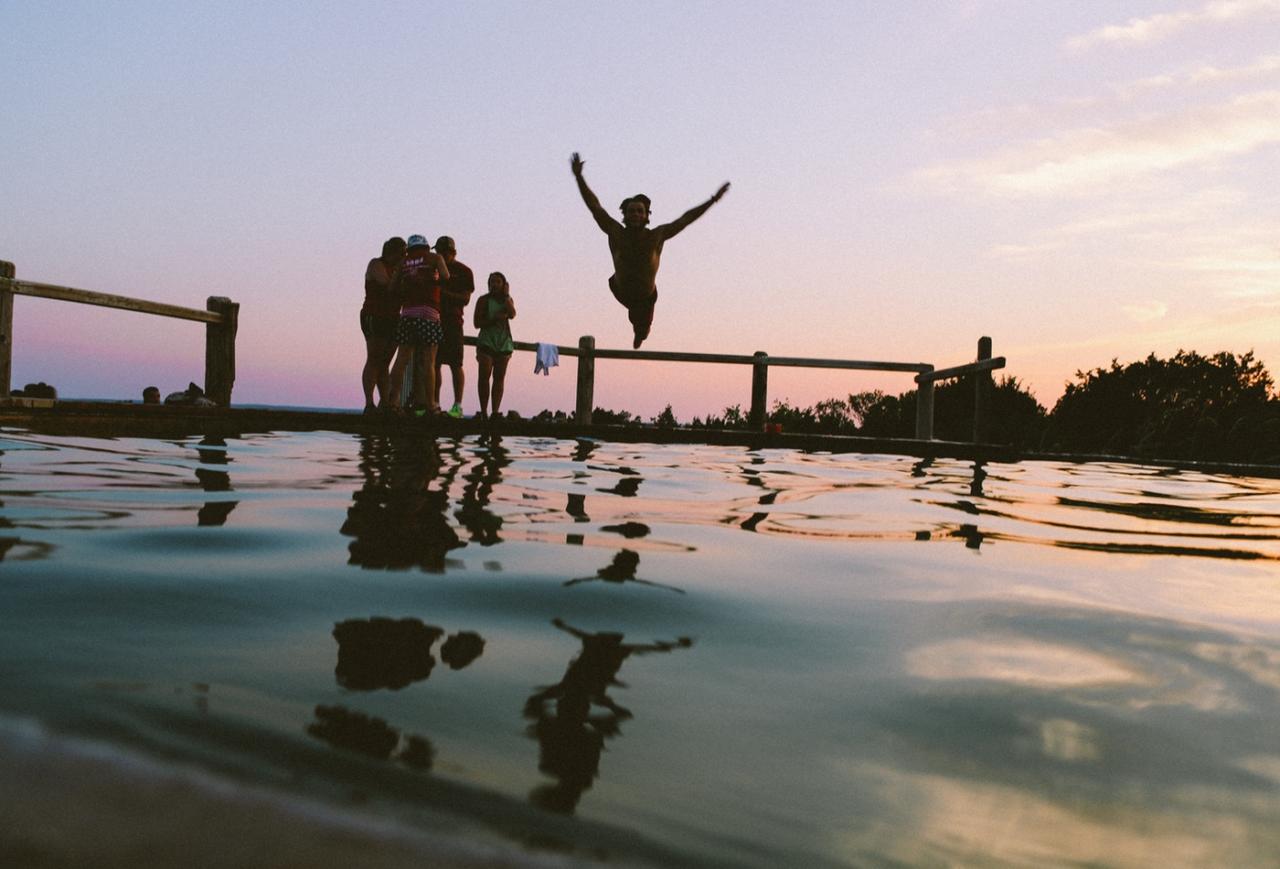 Brooklyn Morgan/Unsplash
I love the beach but I also love swimming pools. All that salt-free water that is (hopefully) clean and blue, is only steps away from my lounger! To be able to swim laps, play with my kids, or just cool off is my idea of a great weekend.
Swimming pools, especially public or club pools are only as clean and safe as the people who use them, and the staff who clean them. Cleaning is vital as are, unfortunately, the chemicals used to keep us safe. Chemicals work well, but can also cause irritation. It's a pro and con situation that's necessary.
Chlorine is a common chemical used to keep pools clean. It works well and it's inexpensive.
According to Dr. Gwen Dewar, who wrote an article on pool safety for Parenting Science, chlorine can kill dangerous germs like:
• E. coli, Rotavirus, Salmonella, and Shigella
Each of these can cause gastrointestinal symptoms Some people may become seriously ill.
• Adenoviruses
Adenoviruses are linked with many illnesses such as eye infections,gastroenteritis and respiratory infections.
• Pseudomonas aeruginosa
Pseudomonas aeruginosa can cause pneumonia, urinary tract infections, along with several other illnesses.
The downside of chlorine is that it can be an irritant for many people. Too much and it can cause red and sore eyes, upper respiratory discomfort and possible inflammation. It's important for parents to report suspected over-chlorination to the pool managers. And of course, chlorine doesn't rid the pool of all bacteria.
The CDC has some interesting statistics about reported illnesses from public swimming pools:
- There are 10.4 million residential and 309,000 public swimming pools in the United States.
- Almost 1 in 8 — 12.1percent, or 13,532 of 111,487 — routine pool inspections conducted during 2008 identified serious violations that threatened public health and safety, and resulted in an immediate closure.
- A total of 81 recreational water–associated outbreaks affecting at least 1,326 persons were reported to CDC for 2009-2010.
- Cryptosporidium (also known as Crypto) is an extremely chlorine-tolerant parasite that can survive in a properly chlorinated pool for 3.5–10.6 days.
- Of the 49 recreational water–associated outbreaks of gastroenteritis during 2009-2010, 55 percent were caused by Crypto.
- Of the 57 gastroenteritis outbreaks associated with treated (e.g., chlorinated) recreational water venues, 84 percent were caused by Crypto.
When choosing a public pool or private club, talk to the managers about any annual reports that may be available for checking. Ask if they have had any kinds of outbreaks. Find out how often the pools are checked for bacteria, and how often they are cleaned.
Basic hygiene is just common sense. Everyone should wear clean swimsuits and shower before entering the pool. Don't overdo sunscreen, it leaves a sticky film of chemicals on the water. Wait at least 5 minutes to enter the pool after applying sunscreen. Don't use a pool when ill.
Other ways to be safe in swimming pools are obeying basic rules. Don't run or allow running. Swimmer should never jump or drive in backwards in public pools, nor should they somersault into the water. Doing this prevents them from seeing other swimmers who may suddenly surface, and can cause accidents and injuries.
Another way to keep healthy at the pool this year is to drink lots of water, even while in the pool. Keep water on the edge of the pool when swimming laps and encourage children to come out for a drink. It's common to assume you're not thirsty when in water, but dehydration can be a real issue.
A Livestrong article on the subject explains why. Swimming, or even vigorous play on the pool causes us to sweat,but since we are immersed in water, we don't realize it.
The article states that "swimmers sweat profusely, especially when they are training vigorously. Indoor swimming pools and the ambient air are usually heated. Combined with the humidity in the pool area, the warm water prevents regulation of body heat. In outdoor pools, though the humidity is lower, the inhaled air is dry and serves to cause dehydration."
Games like pool basketball and lap races can encourage dehydration. It's not just an issue for competitive swimmers.
Signs of dehydration include fatigue, thirst, flushed skin, and an elevated body temperature. Drink water at least every 20-30 minutes when at the pool.
Summer is here, so water play and pools go hand in hand. Keep yourself and your family healthy this summer. Do your research regarding your swimming pools and clubs of your choice — a little homework and some common sense can make all the difference.
Sources:
Parenting Science. Swimming Pools. Swimming pools and health risks: A parent's evidence-based guide. Web. Retrieved June 19th, 2015.
http://www.parentingscience.com/swimming-pools.html
The Centers for Disease Control and Prevention (CDC). Healthy Swimming/Recreational Water. Healthy Swimming Fast Facts. Web. Retrieved June 19th, 2015.
http://www.cdc.gov/healthywater/swimming/fast_facts.html
Livestrong.com. Health. First Aid and Safety. Dehydration. Dehydration in Swimmers. Web. Retrieved June 19th, 2015.
http://www.livestrong.com/article/546667-dehydration-in-swimmers
Reviewed June 22, 2015
by Michele Blacksberg RN
Edited by Jody Smith