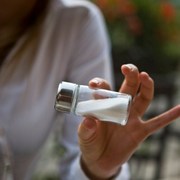 iStockphoto/Thinkstock
Most of us have heard that too much salt is bad. Ordinary iodized table salt is almost all sodium chloride, with a small amount of potassium iodide.
It's the sodium that causes problems for people with cardiovascular issues, but the iodide may present more of a risk for those with a genetic susceptibility to autoimmune thyroiditis.
Potassium iodide is a salt of the element iodine. It is added to table salt to prevent iodine deficiency.
The practice of iodizing salt is spreading throughout the world, leading to a possible excess of iodine.
Iodine is necessary for healthy thyroid function. Either too little or too much can cause illness.
A research study at the China Medical University compared two groups of people with different dietary iodine intakes. X. Teng and colleagues reported that people with higher iodine levels had more hypothyroidism. "More than adequate iodine intake could be a public health concern in terms of thyroid function and thyroid autoimmunity in the Chinese populations," they concluded.
Iodized salt has been common in the United States since the 1920s, according to a report by C. Lynne Burek and Monica V. Talor of Johns Hopkins Medical Institutions, Baltimore, Maryland. These authors studied a mouse model of autoimmune thyroiditis in genetically susceptible individuals.
They found several triggers for the development of thyroid illness: iodine, polyaromatic hydrocarbons, and polyhalogenated biphenols. "The best-established environmental factor is excess dietary iodine," Burek and Talor wrote.
"Increased iodine consumption is strongly implicated as a trigger for thyroiditis, but only in genetically susceptible individuals."
Autoimmune thyroiditis is also called Hashimoto's thyroiditis or Hashimoto's disease. It is the third most common autoimmune condition in the United States, and is the most common cause of hypothyroidism in adults. Women account for over 90 percent of these cases, according to Burek and Talor.
The label on my can of Morton's Iodized Salt reports that one fourth teaspoon contains 25 percent of the daily value of sodium, and 45 percent of the daily value of iodine. Uniodized salt is also available in the grocery stores.
References:
MedlinePlus. Sodium in diet. Web. April 15, 2012.
http://www.nlm.nih.gov/medlineplus/ency/article/002415.htm
Teng X et al, "More than adequate iodine intake may increase subclinical hypothyroidism and autoimmune thyroiditis: a cross-sectional study based on two Chinese communities with different iodine intake levels", Eur J Endocrinol. 2011 Jun; 164(6): 943-50.
http://www.ncbi.nlm.nih.gov/pubmed/21444648
Burek CL, Talor MV, "Environmental triggers of autoimmune thyroiditis", J Autoimmun. 2009; 33(3-4): 183-89. http://www.ncbi.nlm.nih.gov/pubmed/19818584
Reviewed April 16, 2012
by Michele Blacksberg RN
Edited by Jody Smith
Tags: