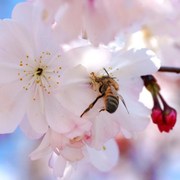 iStockphoto/Thinkstock
During the spring and summer when flowers are blooming, who doesn't notice the buzzing of the busy bee as it flies from one flower to another?
While some view bees as a threat to their allergic nature, others look at bees and think -- Honey!
Spread over toast, mixed into tea, or drizzled on fruit for dessert -- everyone can appreciate the sweetness that honey provides. Not only does it taste delicious, but honey is known to have therapeutic properties as well.
Honey is well known to help soothe a cough, and in the August 2012 online edition of Pediatrics, researchers found that honey taken before bed eased nighttime cough in children over one year of age better than a placebo.
Many adults put a spoonful of honey into their tea to heal a raspy voice or calm a cough and now children can try it too. Be aware that honey should not be eaten by children less than one year of age.
Honey has well-known antimicrobial properties and when applied topically to wounds, may help speed along recovery. In the April 2012 International Wound Journal, researchers found that manuka honey and Medihoney greatly helped with wound cleanliness, pain, and overall healing.
It's important to note that these two honeys are considered medical grade as opposed to what you would mix with your peanut butter. Anecdotally, I have had several patients who bought organic, local honey and applied it to superficial wounds or burns with success.
Honey can also help your skin. There are many do-it-yourself skin health recipes that mix honey with other ingredients to be used as a scrub for the body and face or as part of a mask to reduce acne, inflammation, and pore size.
Be aware that honey is still full of sugar despite being "natural" therefore if blood sugar control is a concern of yours, keep your intake of honey to a minimum dose.
Be smart when addressing your burns and wounds. Have a health care provider evaluate it for severity if you're unsure, and definitely seek treatment if you don't heal or if you start getting worse.
Again, it's important to note that honey should not be used in children under one year of age. Otherwise, enjoy the benefits of local, organic honey and take a more natural approach to your health.
References:
1. Honey: A Sweet Alternative for Treating Cough in Children. Web. 7 August, 2012.
http://www.medscape.com/viewarticle/768669
2. Medicinal Honey Improves Wound Healing, Decreases Pain. Web. 7 August, 2012.
http://www.medscape.com/viewarticle/762958
3. Effects of Three Types of Honey on Cutaneous Wound Healing. Web. 7 August, 2012.
http://www.medscape.com/viewarticle/734125
Reviewed August 8, 2012
by Michele Blacksberg RN
Edited by Jody Smith