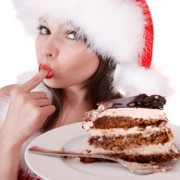 Photo: Getty Images
In this season commonly marked by excess, it may be easy to get off track in your effort to watch what you eat and drink. This can be particularly important if you have been diagnosed with high (LDL, or "bad") cholesterol, but even someone who hasn't had problems with cholesterol can have issues with a different fat in your blood, triglycerides.
Triglycerides are a type of lipid in your blood that is created from food you eat. If the calories aren't needed right away, they are converted into triglycerides and stored in your fat cells to be used as energy at a later time.
There are no symptoms of high triglycerides (hypertriglyceridemia), so it's important to get blood levels checked periodically to make sure your levels are in the healthy range. Unchecked, high triglycerides can contribute to clogging of the arteries (atherosclerosis), and heart problems such as stroke, heart attack, and heart disease.
Talk with your doctor to learn positive ways to control high triglyceride levels. Some things you may talk about with your doctor might include:
1. How is my triglyceride level determined?
When your doctor checks your blood as part of a physical examination, he or she likely will check your cholesterol levels. There are a few different types of cholesterol that are checked, HDL ("good") cholesterol, LDL ("bad) cholesterol, triglycerides, and total cholesterol levels. You may have normal cholesterol levels, and still have a high triglyceride level.
2. How is a triglyceride problem treated?
Initially, your doctor will instruct you to try and make lifestyle changes such as improving your diet and exercise activity to try and bring the triglyceride level down to a more normal level.
3. What is a normal triglyceride level?
Doctors typically recommend a triglyceride level that is less than 150 milligrams per deciliter (1.7 millimoles per L). A level of 150 to 199 is considered borderline high, and a level of 200 to 499 is considered high; over 500 is very high.
4. What causes someone to have a high triglyceride level?
Having a high triglyceride level may be inherited from family, can be related to obesity, untreated diabetes, or may be affected by medications you are taking such as tamoxifen (breast cancer), beta blockers, birth control pills, diuretics, or steroids. High triglycerides also could a signal a condition such as type 2 diabetes, hypothyroidism, liver or kidney disease, or a rare condition affecting how your body converts fat to energy.
5. Do I need to lose weight, or just maintain my current weight?
It is likely that losing just five to 10 pounds may help lower triglyceride levels. It may be easier to instead focus on eating a healthy diet rich in fruits and vegetables, and add fish to your diet a few times a week, or take omega-3 supplements. At any rate, reducing the overall amount of calories you take in could help reduce triglyceride levels.
6. What else can I do to lower my triglyceride level?
You may want to avoid sugary and refined foods (for example, made with white flour), select healthier fats (such as olive, peanut, and canola oils), eliminate trans fat, and limit alcohol use. You may want to research and follow an anti-inflammatory diet as a long-term lifestyle change.
7. Have any supplements shown promise in lowering triglycerides?
In addition to taking fish oil as a supplement, some doctors or wellness professionals recommend taking niacin, Achillea wilhelmsii, chromium, combined vitamin C and vitamin E, creatine, fenugreek, flax oil, pantethine, soy, and walnut oil. There have been limited studies, and most are not approved therapies by the United States Food and Drug Administration, so it's important to work with your doctor to find the treatment option that works for you.
8. What if I can't reduce my triglycerides with diet and exercise?
Your doctor likely will recommend medication to help keep your level under control, such as a statin drug used in treating high cholesterol.
This is intended for informational purposes only, and should be used to help you better advocate for your health. It is not intended to self-diagnose, or treat a condition. Work with your doctor if you think you may have elevated cholesterol or triglyceride levels.
Resources:
<![CDATA[]]>Dr. Weil - Triglycerides Too High
Mayo Clinic – Triglycerides: Why Do they Matter?
EmpowHER - High Triglycerides<![CDATA[]]>
Christine Jeffries is a writer/editor for work and at heart, and lives in a home of testosterone with her husband and two sons. Christine is interested in women's health and promoting strong women.