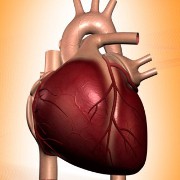 Photo: Getty Images
Aortic valve regurgitation is a cardiac disorder caused by the inability of the aortic valve to properly close. The aortic valve controls blood flow between the left ventricle and the aorta. Oxygenated blood is supplied to the body by ventricular systole, which requires the aortic valve to open. When systole ends, the aortic valve should normally close, preventing the oxygenated blood from re-entering the left ventricle. If the aortic valve does not properly close oxygenated blood will re-enter the left ventricle reducing cardiac output.
Weakening of the aortic valve can begin at birth either as a defect or from a pre-existing condition. While the aortic valve is normally a tricuspid (three leaflet) valve, some individuals may be born with an abnormal valve. Abnormal aortic valves (bicuspid or unicuspid) may not close properly and increase the risk of aortic valve regurgitation. Marfan syndrome, a genetic disorder of the connective tissue, can cause the aortic valve to be weakened from birth. Ankylosing spondylitis, an auto-immune spinal disorder, can increase the risk of aortic valve regurgitation. The latter two conditions, however, are less common causes.
Aortic valve regurgitation can also develop from illness. Endocarditis, the inflammation of the endocardium, can cause a weakening of the aortic valve if it affects the heart valves. Depending on the severity of the inflammation, aortic valve regurgitation can develop. Another illness, rheumatic fever, can also cause a weakening of the aortic valve. Rheumatic fever is a complication of strep throat which can cause damage to multiple heart valves. If the aortic valve is affected, it will not close properly, resulting in blood re-entry into the left ventricle. Syphilis can also lead to weakening of the aortic valve, but this is a less common cause. Finally, the aortic valve can weaken naturally over time. Even without a genetic defect or infection, daily use of the aortic valve can cause the valve to weaken and no longer close properly.
Aortic valve regurgitation will cause the heart to weaken over time. The re-entering blood will accumulate in the left ventricle, forcing the left ventricle to increase blood capacity. To tolerate this increase in blood volume, the chambers of the heart may enlarge and thicken. Initially, this will help the heart pump blood, but eventually, the heart will be unable to compensate. The left ventricle will then be unable to continue pumping enough oxygenated blood to the body.
References:
1) http://emedicine.medscape.com/article/757146-overview
2) www.mayoclinic.com/health/aortic-valve-regurgitation/
Tags: