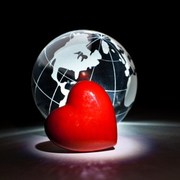 iStockphoto/Thinkstock
One of the things we often overlook when it comes to heart disease is how our culture -- both familial, work, regional, and even national culture -- may influence our propensity for heart disease.
For example, growing up in West Texas I know quite a number of cattle ranchers. When it comes to heart disease, one rancher in particular comes to mind.
As the story goes, every morning this rancher had bacon or sausage, several fried eggs, pork chops, and biscuits and gravy for breakfast. Since this is what he wanted for breakfast, it's also what the family ate.
Never overweight, this rancher worked off what he consumed but the steady diet of high fat foods contributed to high blood pressure and a first heart attack in his early 40s.
Unfortunately, even after the ranch sold and children married and moved away to different pursuits, the familial mealtime culture was handed down and set the stage for several generations to battle obesity, high blood pressure, stroke, and heart disease.
As the world becomes more global, countries who at one time enjoyed relatively low rates of heart disease are finding the risk of heart disease on the rise as the populace adopts the eating habits of other cultures.
Uniquely American-style food fare such as pizzas, hamburgers, and of course, those highly delicious -- and somewhat addictive -- french fries, hotdogs, and fried chicken, are making their way into Southeast Asian cuisine.
As consuming American-style fast food become more common, Asians are seeing an increased risk of dying from heart disease along with developing Type 2 diabetes, according to results of a new study.
According to lead study author Andrew Odegaard, PhD, MPH, consumption of Western foods has been on the increase in East and Southeast Asia since the late 1980s.
In examining Chinese adults living in Singapore, researchers found that those Chinese-Singaporeans who consumed American-style fast foods exhibited an increased risk of both developing diabetes and dying from heart-related disease when compared to their non-fast food consuming counterparts.
Study authors based their findings on results from the Singapore Chinese Health Study. A 16-year study, the Singapore study consisted of almost 53,000 Chinese-Singaporeans whose health was tracked from 1993-2009. During the course of the study 2,252 participants developed diabetes and 1,397 deaths from heart disease were reported.
The differences in risk factors between Chinese-Singaporeans who consumed American-style fare and those who did not consume American fast food were significant.
Overall, a 27 percent increase in the risk of developing diabetes was found when Chinese-Singaporeans ate American-style fare as little as once or twice a week.
Likewise, those easting American fast food once or twice per week were also found to have an increased risk of dying from heart-related disease, which was 56 percent higher than their counterparts.
As the consumption of American-style fast food increased, so did the risk of dying from heart disease.
Chinese-Singaporeans consuming American fast food four or more times per week were found to have an 80 percent greater risk of dying of heart disease than their counterparts.
It's believed that the increased portion size of American-style fast food, along with high caloric, sodium and cholesterol levels were contributing factors to the increases in the risk of diabetes and death from heart disease.
Study authors believe that study findings underscore the need to examine how consumption of foods from other cultures may affect dietary changes, lifestyle habits, and impact to health.
Odegaard is a Research Associate in the Division of Epidemiology and Community Health at the University of Minnesota School of Public Health in Minneapolis, Minn.
Study findings were published in the American Heart Association's journal Circulation.
Sources:
American fast food increasing heart disease risk in Southeast Asians. American Heart Association. 02 Jul 2012.
http://newsroom.heart.org/pr/aha/american-fast-food-increasing-235780.aspx?ncid=36436
Rupert Shepherd. American Diet Fuelling Heart Disease and Diabetes Rates in Southeast Asia. Medical News Today. 06 Jul 2012.
http://www.medicalnewstoday.com/articles/247537.php
Reviewed August 6, 2012
by Michele Blacksberg RN
Edited by Jody Smith