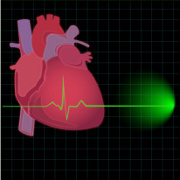 Photo: Getty Images
I have to admit to being surprised to learn that there are actually different types of heart attacks. In retrospect, this knowledge should have been intuitive. But, it honestly never occurred to me that heart attacks could come in various flavors, each with their own unique little nuances. I guess I just took it for granted that a heart attack was a heart attack was a heart attack.
After all, it wasn't a topic that came up regularly at the dinner table. Did you hear that Frank had a non-ST segment elevation myocardio infarction today? Why, no I didn't -- please pass the mashed potatoes. You see what I mean? It simply isn't dinner conversation.
The truth is that there are different types of heart attacks, each with unique markers. The heart attack of the day is a STEMI, or ST segment elevation myocardial infarction, heart attack. Myocardial infarction, or MI, is simply another name frequently used by medical professionals to refer to a heart attack. The very name is somewhat intimidating and the results of a STEMI heart attack can be quite serious.
STEMI heart attacks occur when the blood supply to the heart is completely and totally blocked for an extended period of time. As a result, the damage to the heart muscle can be quite extensive. Often, large areas of the heart are impacted and left with severe damage.
People with STEMI heart attacks are more likely to die or to suffer permanent disability from the resulting damage to the heart muscle. This type of heart attack shows up on electrocardiograms or ECGs. STEMI heart attacks also show up in the form of chemical markers in the blood indicating damage has occurred to the heart muscle.
In contrast, non-STEMI heart attacks are triggered by a blockage that is either partial, or in some cases, temporary. Because some blood flow is still being maintained, non-STEMI heart attacks often cause little damage to the heart. While non-STEMI heart attacks don't usually present on an ECG, the damage caused to the heart muscle will show up in the chemical markers in the blood.
Because STEMI heart attacks show up on an ECG, emergency personnel will often conduct an ECG at the scene. Early diagnosis means early treatment. Because STEMI heart attacks are so severe and have the potential to cause so much damage, minutes matter. Early treatment can mean the different between life and death or permanent ongoing disability.
Treatment generally involves administering medications specifically designed to remove blood clots and restore blood flow. These types of treatments should begin as soon as possible and maximum benefit is gained if administered in the first 30 minutes after symptoms appear. Surgery is sometimes required to remove the blockage and restore blood flow.
A PCI, or percutaneous coronary intervention, procedure involves restoring blood flow through the use of stents or angioplasty. Ideally, PCI procedures should be done within 90 minutes. It's generally the preferred treatment because less bleeding is involved and is more effective than medications.
Unfortunately, most hospitals do not have the capabilities to perform PCI procedures. Some estimates are that only 25 percent of all hospitals are equipped for this type of procedure. If you live with coronary artery disease, or if you live in a rural area where such treatment is less likely to be available, it may be to your advantage to know which hospitals in your area are equipped to handle STEMI heart attacks.
Sources:
Types of Heart Attacks. The Cleveland Clinic Foundation. Sept 2007. http://my.clevelandclinic.org/heart/disorders/cad/mi_types.aspx
Mission: Lifeline Heart Attack 101. American Heart Association. 02 Mar 2011. http://www.heart.org/HEARTORG/HealthcareResearch/Mission-Lifeline/MissionLifeline-Heart-Attack-101_UCM_314000_Article.jsp#.TqdyF7IzCSo
Reviewed Wed October 26, 2011
by Michele Blacksberg RN
Edited by Jody Smith
Tags: