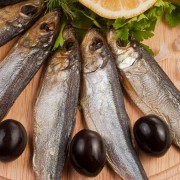 Photo: Getty Images
Cold-water fish, such as salmon, mackerel, and herring, can provide a heart-healthy source of protein. Fish qualify as a heart-healthy food because they contain high levels of omega-3 fatty acids. Omega-3 fatty acids are a class of unsaturated fatty acids which are essential to good health. Current evidence shows that diets rich in omega-3 fatty acids can lead to lower blood pressure, heart rate, blood pressure, and atherosclerosis.
Omega-3 fatty acids can also contribute to a reduced risk of primary and secondary heart disease. Fatty fish, which includes salmon, mackerel, herring, and lake trout, have the highest concentration of omega-3 fatty acids.
The American Heart Association recommends eating foods rich in omega-3 fatty acids twice a week as part of a healthy diet. For the healthy adult, the recommended serving of fish is 3.5 ounces cooked or ¾ cup of flaked fish. Postmenopausal women and middle-aged and older men are most likely to benefit from diets rich in fish. Individuals with heart conditions may need more omega-3 fatty acids in their diet. Some physicians may recommend a supplement to help provide more omega-3 fatty acids. Children and pregnant women may also need more omega-3 fatty acids per week than adults.
While fish are good sources of omega-3 fatty acids, too much fish can be detrimental. Certain fish may contain high levels of mercury, polychlorinated biphenyls (PCBs), dioxins, and other environmental contaminants. These substances can be absorbed from contaminated waters and are stored in the fish tissue. Predatory fish can have high levels of these toxins, which are accumulated by eating other contaminated fish. Older or larger fish can also have high levels of contaminants which are absorbed over time.
Children and pregnant women are at the highest risk, and are advised to avoid eating fish with potentially high levels of contaminants. Predatory fish, such as king mackerel, shark, or swordfish, should be avoided. Instead, fish and shellfish lower in mercury (canned tuna, salmon, Pollock, and catfish) can provide a safer source of omega-3 fatty acids.
When preparing fish, it is important to know the type of fish and where the fish was caught. If possible, contact quality control agencies or retailers. If there is a high risk of contaminants, it may be safer to cook a different fish. Before eating fish caught by family or neighbors, check local advisories. Some rivers may contain higher pollutants and pose a health risk. Cooking a variety of fish can also minimize the risk of ingesting harmful contaminants.
References:
1) http://www.mayoclinic.com/health/fish-oil/NS_patient-fishoil/DSECTION=evidence
2) http://www.americanheart.org/presenter.jhtml?identifier=4632