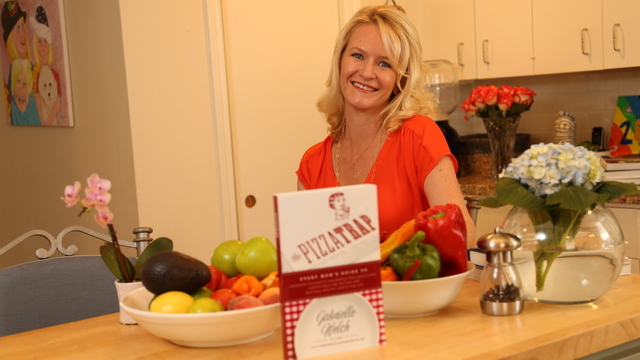 Gabrielle Welch
Gabrielle Welch is a nutritionist, public speaker, wife, and above all a mother of three girls. She completed a degree in psychology during her undergraduate years then returned to school for her MBA.
Her true calling for health was discovered after her eldest daughter was born with lactose chronic health issues.
"I had to kind of become my own health detective for her to try and figure out what was going to make her well. So that began really with food and trying to figure out what she needed and what she didn't to support her body and her body's different needs," Welch said.
Even though Welch grew up in a healthy home, the birth of her children played an important role in her passion for health. She returned to school and received two additional degrees in nutrition and holistic health.
"I always felt that I ate pretty well but through my studies and my own daughter I became much more aware of the importance of different foods and what different foods can do for your body," she said.
Since the completion of her education Welch has made it a personal goal to spread the word of healthy meals within a changing society.
"There is so much more processed food and things out there and GMOs that weren't around when I was young, many of the issues that exist now didn't exist then ... I think as a nation we have really disassociated food with health, I think everything has become so packaged and commercialized," Welch said.
Her experiences led her to write "The Pizza Trap," a resource for parents she created by culminating her education, 10 years of research, and overall experiences as a mother.
"I really wanted to put together something for moms. That they could have all of the information on what your kid needs, that took me years to find out," she said.
For Welch, food education is just as important as any other aspect of education when it comes to setting your children up for success.
"These kids are getting all of this information very early on about sex and drugs and alcohol and bullying, and all of these things that they may never come in contact with in their lifetime," Welch said.
"Yet they're eating food four, five, six times a day and they're having to make decisions based around food four, five, six times a day."
To Welch's way of thinking, your children and the decisions they make stem from you. If you're not their main influence the media will be, leaving them prone and impressionable when it comes to sugary foods and soft drinks that are promoted daily.
"I think a lot of the issues around a child's fear of food is that the parents don't cook it because they don't know how to make it or they don't have time, they're working, so it's easier just to throw a pizza in the oven," Welch said
According to Welch, the mentality of giving in to your child and what they want to eat is what is leading young children to have serious health problems. Being tired or saying you'll start cooking healthy for your family later is not an excuse.
"The education piece is really important for parents to learn about food, to understand that they can make (and children too) four or five really easy 20 minute meals that have great vegetables and a well balanced dinner," she said.
In fact, one of her main goals as a mother is to teach her children the life skills they need to know about food.
"I told my daughter, I have failed if you walk out of here and you can't prepare a healthy meal with two or three vegetables or make a weeks worth of meals. Then I haven't done my job," Welch said.
Learning about food and passing that on to your kids gives them a life skill and Welch said it starts with you at home.
"As a parent, when you have your kids under your control you have to feed them as healthy as possible and when they're not, you just have to encourage them to make the best choice possible," she said.
Although in a modern world it can be hard to cook and present healthy meals all the time, Welch's best advice is to, "make the better bad choice."
To learn more about Welch and how healthy foods can help your family visit her website here.
Sources:
Amazon. The Pizza Trap. Retrieved Feb. 23,2015.
http://www.amazon.com/The-Pizza-Trap-Gabrielle-Welch
Welch Wellness. Gabrielle Welch. Retrieved Feb. 23,2015.
http://welchwellness.com Reviewed February 25, 2015
by Michele Blacksberg RN
Edited by Jody Smith