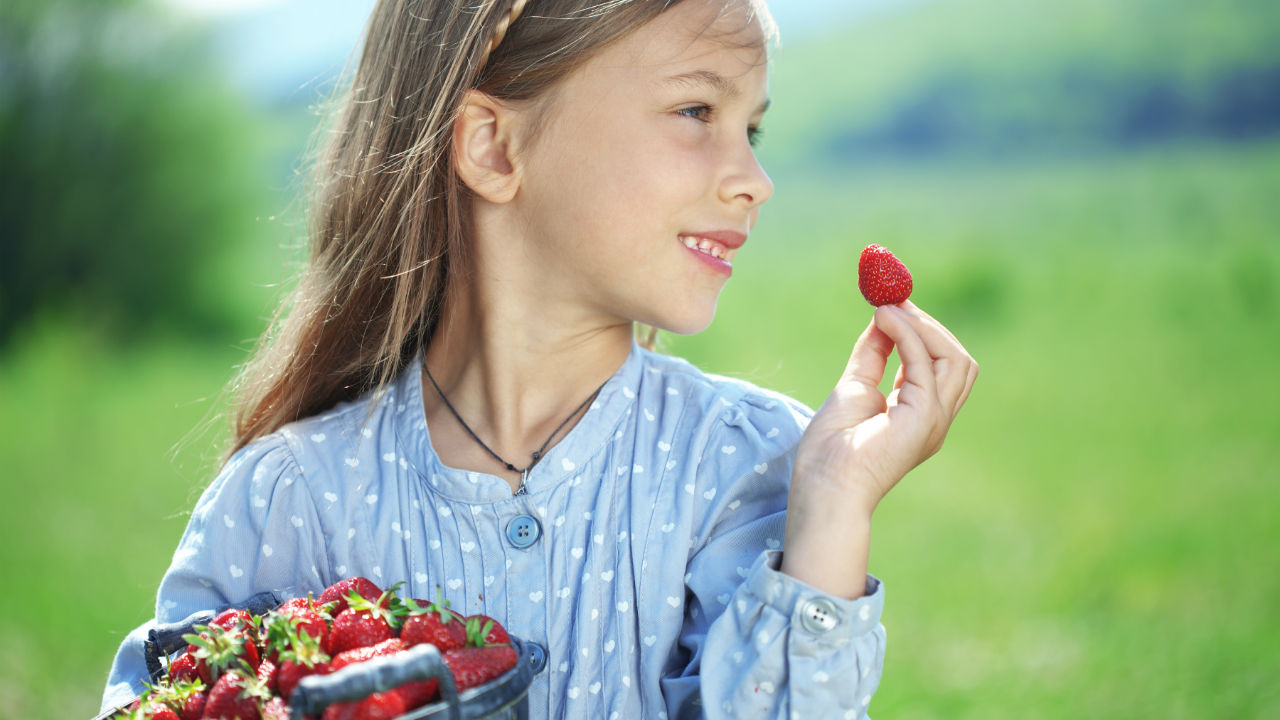 Photo: Getty Images
Across the United States, summer has arrived. In my unair-conditioned apartment in hot, humid Washington DC (a "beacon of democracy" built on literal swamp land), this means two important things:
1. We will try absolutely ANYTHING to stay cool, and
2. Berry season has arrived to our region!
Luckily for my roommates and me, these two phenomena overlap in ways that have encouraged us to experiment with several summer snacks. If you are looking for some cool, low-calorie treats that allow you to sample the summer fanfare of fruits AND help you get important nutrients into your diet, you have come to the right article.
All of the recipes below are easy, affordable and focused on foods that are available locally, meaning that when you make and eat these tasty concoctions, you are being good to your body, your bank account and the earth.
Just be willing to share with friends and family!
1. Berry Smoothie
In blender, combine:
1 cup of frozen or fresh blueberries
1 cup of frozen or fresh strawberries
1 cup of nonfat plain or vanilla yogurt (vanilla will make your smoothie much sweeter)
½ cup skim milk or soymilk
Splash of orange or lemon juice
1 teaspoon of cinnamon
Enjoy immediately! Makes 4-5 servings
This smoothie is a perfect breakfast or after-school snack that is filling, frosty and nonfat. It is high in calcium and protein thanks to the yogurt/milk and chock-full of vitamin C, fiber and antioxidants.
It will give you energy, boost your immunity, keep your bones strong and aid in digestion.
Fun fact: blueberries are just as effective as cranberries at preventing bladder infections!
2. Summer Salad
Ingredients:
3 cups of watermelon, cut into small cubes
1 cup of blueberries
1 cup of raspberries
1 cup of plain nonfat yogurt
1 tablespoon of honey
1 tablespoon of lemon juice
Directions:
Mix yogurt, honey and lemon juice in a bowl and gently fold fruit into mixture. Refrigerate for 1-2 hours in order to let flavors combine.
Serve chilled! You can also substitute or add any fruits that you have on hand.
Like the smoothie above, this summery fruit and yogurt dish is low in calories and full of important vitamins and minerals. Nonfat yogurt provides a calcium and protein boost, while the fruit gives you a good portion of your daily vitamin C, folate, potassium, magnesium and more.
Additionally, the watermelon in this tasty treat is a good source of vitamin A and a great way to keep hydrated on hot summer days. It will leave you feeling refreshed, full and ready for anything.
3. Juicy Popsicles
Popsicles are a classic staple in summer meals and get-togethers (I have vivid memories of fighting over the root beer-flavored option with my siblings).
However, in the grocery store, these frozen treats can be expensive and unhealthy. If you are looking for a way to avoid the corn syrup, the wasteful, superfluous packaging and the high cost, this simple homemade option is a great substitute.
All you need is:
1 popsicle tray (These are available for under $2 at Target and many other stores; if you cannot find one, you can also use an ice cube tray with toothpicks.)
1 can of frozen juice from concentrate -- I recommend lemonade, but any flavor works just fine! Look for juices made without corn syrup or too many additives/non-fruit ingredients.
Follow the directions on the can to make the juice, adding one more additional cup of water than called for in the recipe.
Pour the juice into your popsicle tray and allow it to freeze for 2–3 hours.
This frozen dessert is a healthier version of the store-bought popsicle, and it's perfect for parties because one can of concentrate should make enough juice for several batches.
Get a serving of fruit, a cooling, hydrating treat and a sweet, tangy morsel - all on a stick! If you are adventurous, you might experiment with mixing flavors.
Do you have summer snack ideas or variations of your own? Please share! The summer is long, and my apartment will continue to lack air-conditioning. Thanks!
Sources:
http://www.care2.com/greenliving/health-benefits-of-watermelon.html#
http://nutrition.about.com/od/healthyfood1/a/berries.htm
Edited by Kate Kunkel