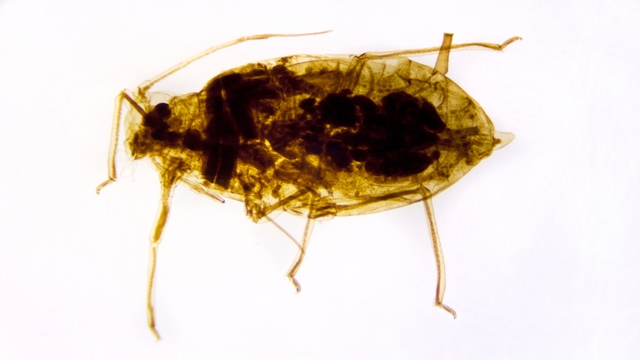 Knut Niehus/PhotoSpin
Most teachers have a head lice story. Recently, I collected and bagged the pillows and stuffed animals in the reading corner after an outbreak in my own classroom. The National Association of School Nurses reported about one in every 100 school children is bothered by the pesky louse each year. More cases are reported in girls than boys, perhaps because of sharing personal items like hair brushes. The peak times for outbreaks are during the summer and at the start of the school year. When our school nurse calls home about a little head infested with lice, the parent is often embarrassed. She always reminds them that anyone can get lice and it is not caused by poor personal hygiene or living conditions.
Parents are usually alerted to the problem because of constant head scratching. The louse is a tiny parasite that makes a meal of human blood. When it bites to take a sip every few hours, its saliva may cause an allergic reaction. You can spot tiny red dots on the child's scalp, neck and shoulders. However, not all people have a reaction, particularly if this is the first infestation. The adult louse, resembling a strawberry seed, can be spotted behind the ears or back of the neck. The louse deposits her eggs on the base of the hair shaft, right at the scalp. The nits are light in color and may look like dandruff, but can't be brushed away easily.
Over-the-counter shampoos are available or your doctor can prescribe one for a stubborn infestation. The prescription medications: Malathion, Lindane, and Benzyl alcohol lotion, have side effects and are not approved for all ages. Always remember to read and follow directions carefully. The National Pediculosis Association recommends trying a nit comb before resorting to medicated shampoos that contain insecticides. The fine-toothed nit comb removes lice when combed through wet hair. This is done every few days for two weeks. The nit comb is recommended as the first treatment, rather than chemical shampoos, in children younger than 2.
Vacuuming carpets and furniture is the best way to zap up fallen lice or hair strands containing nits. Since a louse can only survive about a day once it has fallen off the host scalp, pesticide spraying is not necessary. Contaminated items like bedding can be spun in the dryer for 30 minutes or stored in a sealed plastic bag for 2 weeks to kill lice and any incubating eggs. Once a student returns to school, the nurse will check the scalp to ensure the critters are completely gone. One last thought to put it all in perspective: dried lice and their eggs have even been found on the hair and scalp of Egyptian mummies!
Sources:
http://www.nasn.org/portals/0/resources/scratch_fact_parent_2010.pdf
http://www.pta.org/2151.htm
http://www.headlice.org/
Edited by Alison Stanton
Tags: