Has anyone tried CrossFit?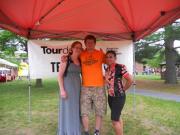 By
Jackie Park
October 16, 2012 - 10:22am
I have lost 80 pounds and kept it off the past 3 years! I stopped all of the crazy diets and counting calories with strenuous hours of workouts! I kept with the general rule of healthy eating+exercise= Weight Loss. I have started a blog and ebook about my successes (http://sheisjustgettingstarted.blogspot.com) Now, however I want to challenge myself even more, and I have a few friends that do CrossFit and love it! But it seems a little intimidating...I use the weight machines at the gym and lift dumbells but that's about it....has anyone tried CrossFit or have some experiences they can share?