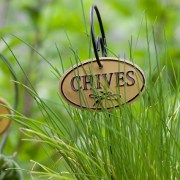 Photo: Getty Images
The food company Goodness Gardens, Inc. is recalling some of their chives after quality control checks revealed that a sample contained listeria monocytogenes, a food poisoning organism that can cause high fever, headache, stiffness, abdominal pain, diarrhea and nausea.
The effects of this are self-limiting and short lived in most people but in people with weakened immune systems, young children and the elderly it can cause severe infections and may be fatal.
It is also a danger to pregnant women because it may cause miscarriage and stillbirth.
The chives were distributed in the following states: NY, NJ, CT, MA, PA, MD, AL, IL, and VA and were sold at retail stores and through a wholesaler in PA.
The affected lot number is 0201111 and they were in plastic clamshell containers of 0.25 oz. (UPC 0 21985 20005 6), 2/3 oz. (UPC 0 21985 10004 2), in 1 lb. bags, and ½ oz. twist tie bunches. The expiration date was May 6, 2011 so there is probably none of the product left in stores but retailers who do have some left are being asked to remove it.
If you purchased the affected chives, you can get a full refund by returning it to the store you purchased it from.
If you have any questions can telephone Goodness Gardens on 845-355-4757, Mon-Fri 9am-4pm EDT.
Tags: