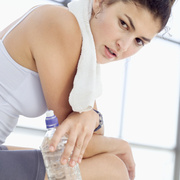 Stockbyte/Thinkstock
Articles of clothing have been a source of embarrassment long before Janet Jackson performed at the Superbowl, but her memorable appearance made "wardrobe malfunction" a common term.
As if we didn't have enough problems trying to look good and put together on a daily basis, what could be more embarrassing than having "clothing issues" while trying to burn some calories?
Have any of these following situations happened to you?
"I see London ..."

You have dropped a few pounds and your reward was some new workout shorts and matching top. You have decided to try the latest, newest class being offered at the gym.
Your excitement builds as the music blasts, announcing the start of class. You are feeling good in your new workout outfit until it becomes embarrassingly clear that the class has way more front kicks than you were expecting.
Before long, your face looks as red as your new shirt and it is not really a lucky thing that you chose a spot at the front of the class directly facing the full wall mirrors. Thank goodness you didn't buy a new thong too.
"Sports Bras -- Highly Recommended"
Do you remember when you first started working out? Maybe you had a trial pass at the gym before deciding if you were going to join.
Since you were still thinking about it, you didn't want to spend your spare college money investing in all the "gear." So you tried out the stationary machines and classes decked out in running shorts, a t-shirt, your white Keds and a regular (non-sports) bra.
Not only did you have to run on the treadmill with you arms crossed in front of you instead of comfortable moving at your sides, but during the kickboxing class, your bra strap snapped under the pressure.
Another reason to always carry a bobby pin. And by the way, every wardrobe should include AT LEAST one sports bra.
"Is it Cold in Here?"
It is not common to pay attention to what other people are wearing when you are at the gym focusing on a work out but if you looked around, you might see a lot of black.
Black pants, black tanks, and other black tops. Black slims, everyone knows that. However, one day I decided to stray from my typical "go to" color and bought a white sport bra and white sports tank to go over it.
I was in my class and feeling fit and slightly tan with my crisp white layers. I even felt brighter than usual. As I stood waiting for the class to begin, I saw myself in the mirror and was painfully aware of how low they keep the air conditioning in the gym.
The white seemed much more transparent than my usual shirts and I found myself anxious to start jumping around and warming up.
Then I had a frightening thought -- What if I got sweaty? I think next time I will save my white for yoga where the lights are dim.
"Squats and Thongs Just Don't Mix"
In an attempt to avoid saggy underwear or panty lines showing through your workout pants, one morning you decided to wear a thong to the gym, something you haven't done for a while.
Sadly, this is the day that your Muscle Class instructor has decided turn your legs into jelly with endless squats during class. OUCH! That grimace on my face is not only because my legs are on fire.
Dressing for the workout is only part of the battle.
Edited by Jody Smith