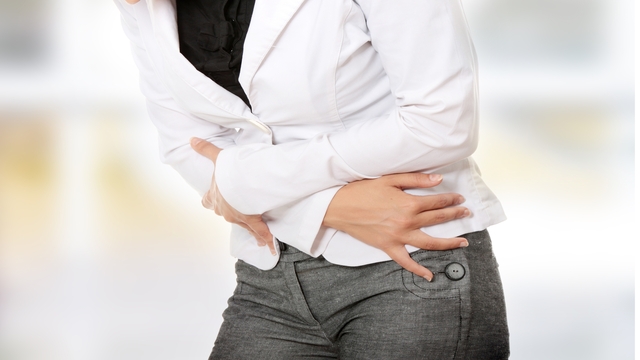 B-D-S/PhotoSpin
Endometriosis is a painful condition where tissue from inside the uterus grows in other places, such as the abdominal cavity, over the ovaries, on the intestines, in the vagina or the cervix. Rarely does the tissue travel to further sites such as the lungs or brain, however it can occur.
When the tissue implants, it often causes all sorts of problems such as pelvic and abdominal pain, pain with intercourse, pain with bowel movements or urination, fertility problems, menstrual problems, and more. Symptoms are usually worse near or during the menstrual cycle but can be a problem all cycle long.
Many with endometriosis have gastrointestinal problems because of the implants adhering to the intestinal or colon walls, creating a lot of pain, diarrhea, constipation or overall irritable bowel symptoms (IBS). Now, researchers in Denmark have studied almost 38,000 women with endometriosis and found a direct link between it and the development of inflammatory bowel disease (different from IBS) such as ulcerative colitis and crohn's disease.
The researchers aren't entirely sure why this link exists. However they have surmised that it is due to the shared immune system issues that cause the development of both inflammatory conditions, and/or the use of oral contraceptives to help endometriosis symptoms increases the risk of IBD.
Those with endometriosis are typically diagnosed based on symptoms and/or surgical evaluation. Endometriosis does not usually show up on an ultrasound, therefore if your pelvic ultrasound is normal it does not mean you are free and clear. It must be pretty severe to show up on MRI.
Surgery is typically done through tiny incisions in the abdomen where your doctor can use a camera to see the implants and then remove them if necessary. They may still grow back however.
Mainstream treatment for endometriosis involves trials with pain medications, oral contraceptives to control hormones, the IUD with a progestin in it known as the Mirena, surgery, and other stronger hormone-type medications.
There are several alternative choices too such as abdominal massage, acupuncture, diet and lifestyle changes, and supplements to support liver detoxification and hormone balance.
Inflammatory bowel disease is generally diagnosed based on colonoscopy, where a very small camera is inserted rectally in order to view your entire colon and take biopsies of concerning areas of tissue if necessary. Due to the strong correlation between endometriosis and IBD, talk with your health care provider about having a colonoscopy especially if you experience any gastrointestinal symptoms.
References:
1. Increased risk of inflammatory bowel disease in women with endometriosis: a nationwide Danish cohort study. Web. January 17, 2012.
http://gut.bmj.com/content/early/2011/12/04/gutjnl-2011-301095.abstract
2. Risk Factors for Inflammatory Bowel Disease in the General Population. Web. January 17, 2012.
http://www.medscape.com/viewarticle/510581
3. Inflammatory Bowel Disease. Web. January 17, 2012.
http://www.mayoclinic.com/health/inflammatory-bowel-disease/DS01195
4. Endometriosis. MedicineNet. com. Web. January 17, 2012.
http://www.medicinenet.com/endometriosis/article.htm
Reviewed January 18, 2012
by Michele Blacksberg RN
Edited by Jody Smith