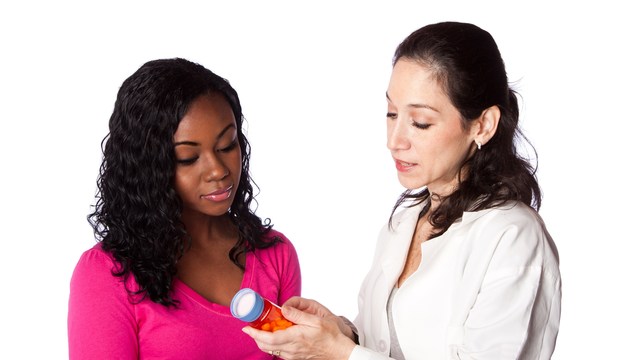 Paul Hakimata/PhotoSpin
A woman has a 15-25 percent chance of becoming pregnant with unprotected sex each cycle, depending on the research. In order to become pregnant, she must ovulate (release an egg) and the sperm must meet the egg and fertilize it.
This does not mean she has a 15-25 percent change of getting pregnant EACH TIME she has unprotected sex, as it depends on a number of factors and timing around ovulation.
Since some women are not looking to become pregnant, for a number of reasons (broken condom, forgetting birth control pill, rape, not using protection, alcohol/drugs, changing minds, etc.) they may choose to use emergency contraception (EC) in the form of a morning-after pill.
Emergency contraception pills are not an abortion pill as they will not disrupt an already viable pregnancy. EC, if used correctly, will potentially stop or delay ovulation preventing the release of the egg so that the sperm cannot fertilize it.
The most common EC is levonorgestrel , which is a progesterone-like hormone pill. It works by preventing or delaying the rise in the hormone that triggers ovulation, known as luteinizing hormone or LH.
If a woman's LH is already starting to rise and beginning to induce ovulation, levonorgestrel may not stop it as it may be too late.
Levonorgestrel does not affect the lining of the uterus therefore if implantation is going to or has occurred, it will not disrupt this process. Ideally a woman will use this EC within the first 24 hours after intercourse to be most effective, however it can be used up to 72 hours after sex.
It is most effective in women weighing less than 165 lbs. This form is most commonly found over the counter at the pharmacy. Often one must talk with a pharmacist to get it. It is safe for breastfeeding women.
Another form of EC is ulipristal acetate which is a pill that modulates the progesterone receptor by preventing or delaying lead follicle growth in order to stop egg release.
If a woman takes this pill early in her cycle, it will often prevent ovulation altogether, and is effective for up to five days. This is more effective than the levonorgestrel form. If a woman takes this pill just as she is about to ovulate (mid-cycle), ovulation will be delayed for 24-48 hours.
Understand, however, that sperm can live in healthy, fertile cervical mucus for three to five days. Ulipristal acetate is not as effective in women weighing over 195 lbs. This form is not over the counter and does require a prescription.
Common side effects for both can include nausea, vomiting, cycle changes or delay, and abdominal pain.
As neither pill is 100 percent effective in preventing pregnancy, there is always the chance that a woman will still become pregnant despite taking one of these pills. If she vomits within three hours of taking either pill, she will need to repeat the dose.
If a woman has any questions, she is encouraged to talk with either her health care provider or her pharmacist as soon as possible in order to have the greatest preventive effect, should she choose to take either pill.
Sources:
Bastianelli, C., and Farris, M. Emergency Contraception. Expert Rev of Obstet Gynecol. 2011;6(5):569-576.
Linden, J., Mathews, J. (2014). Emergency Contraception After Rape.
Retrieved from http://www.medscape.com/viewarticle/824148_1
Reviewed July 17, 2014
by Michele Blacksberg RN
Edited by Jody Smith