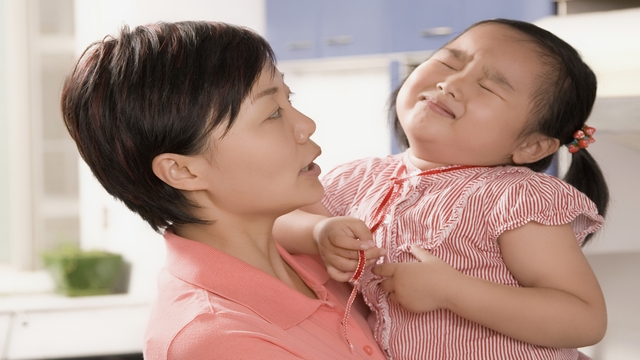 My kids have always been prone to ear infections. Two of my three sons had tubes put in their ears as infants. For me the signs are unmistakable. Usually there is a slight fever, constant tugging at their ear, and the inability to sleep.
When my kids have trouble sleeping, I know something is wrong. I call the doctor for an appointment, not to try to confirm a suspicion, rather I am begging for relief for my child.
It is rare that my husband and I go out of town without our boys. So we were excited for a weekend getaway to celebrate not only our anniversary, but also a family member that was getting married.
Soon it was only days away from our trip. We decided to do some last minute shopping with the boys so we would be ready to go. After about an hour of shopping, our youngest son began to whine and complain about his ear.
We looked at each other with raised eyebrows. We knew our time was very limited. We would have to choose our last stop wisely.
I had hoped to find the perfect pair of shoes to go with a new dress for the wedding. We hadn't made it there yet. As we rounded the mall corner, I could see the pretty footwear elevated on display.
My son began to cry. I looked from the shoes to his face.
He looked tired. His eyes stared into the distance. I held my arms out to him and snuggled into me and rested his head on my shoulder. Time to go.
I looked longingly into the shoe department as we passed quickly by. So close. There will have to be a next time. No shoes today.
My son, who had been fine all morning, was screaming from the pain in his ear by the time we reached the car. The screams continued as we drove home. He didn't seem to have a fever but he looked exhausted.
His screams turned to quiet sobs. I turned back to watch his eyelids droop, then spring back open as his head tilted. He rubbed his ear and cried some more. Poor guy.
Once home, we knew nothing could be done on a Sunday. We gave him something for the pain and I rocked him until he finally fell asleep.
All tasks on my to-do list for the next day dropped down, some of them off the list completely. My number one priority was to get him into the doctor first thing in the morning.
I prepared myself for a long night with little sleep. Rare trip away with husband and child that gets sick four days prior. Yeah, that seems about right.
I was completely grateful that our son was feeling better the day after starting his antibiotic. I quote my son when I say, "Ear infections are the WORST!"
Edited by Jody Smith