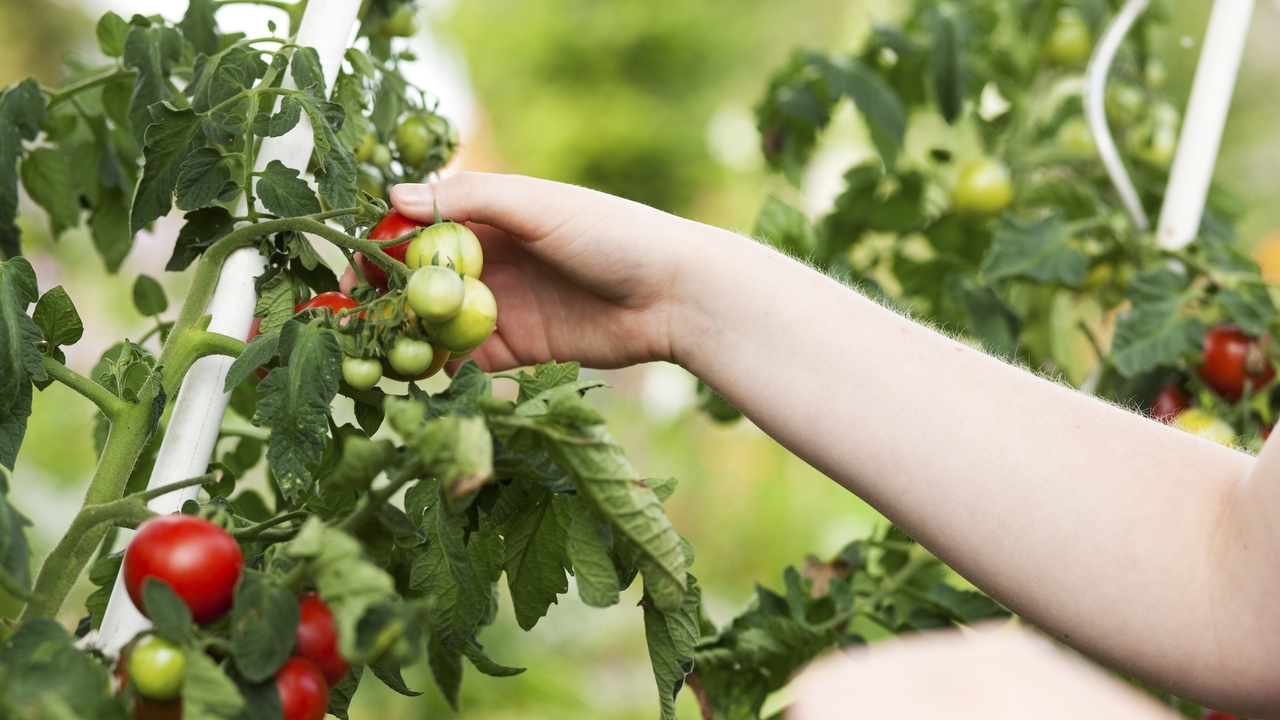 MonkeyBusiness Images/PhotoSpin
Imagine picking a red, ripe, juicy tomato off its vine, pulling up fresh carrots, and plucking tender sweet peas and corn for dinner tonight. And it's all as close as your back door.
There's just something joyful and fulfilling about a backyard or "kitchen" garden, which is why millions of families are joining a new revolution and growing their own vegetables.
Roger Doiron, founder of Kitchen Gardeners International, a global online community of people growing their own food and building relationships in the process, said the idea of the kitchen garden is turning the western diet, heavy on convenience food and fast food, on its head.
"A kitchen garden doesn't have to be right outside the kitchen door, but the closer it is, the better. Think about it this way: The easier it is for you to get into the garden, the more likely it is that you will get tasty things out of it," Doiron said.
"And what could be more convenient and fast than having your pick of over 40 nutritious foods straight from your own garden?"
Homegrown vegetables are healthier than store-bought, Doiron said, because the commercially grown foods we're eating today are significantly less nutritious than just 30 years ago.
"Breeding crops for higher yields has delivered cheaper food, but it has also diluted nutrients," he said.
Furthermore, most kitchen gardeners don't expose their vegetables to toxins, so it is safer, fresher, and tastes better.
Doiron said anyone can grow their own food regardless of where they live. If space seems like an issue, think about container gardens and rooftop gardens, or maybe you'd like to create a window or planter box garden.
"I'm convinced when people look around they will discover they have enough resources to get started," Doiron said.
He recommends new gardeners start small — tuck a few successes under their belt in year one, and scale up little by little.
"Even in year one, you may be able to meet a big chunk of your family's produce needs," he said.
"Kitchen gardens and gardeners thrive because of positive feedback loops. If your garden harvests taste good and make you feel good, you will feel more motivated to keep on growing."
Wishing for something larger but you simply don't have the space? Community gardens and yard-sharing gardens are gaining popularity. Community gardens are springing up across the United States and Canada, and new ones are starting all the time.
According to the American Community Garden Association, bare weedy lots in inner cities, suburban and rural areas alike are becoming green community gardens. Neighbors come together to beautify their street, improve their quality of life, reduce crime, and provide nutritious food for the community.
The Los Angeles Community Garden Council manages 32 community gardens. The council offers advice, workshops, and community organizing assistance to more than 125 community gardens in Los Angeles County, serving more than 6,000 families, according to their website.
Their mission is to strengthen communities by building new, and supporting existing, community gardens where every person in Los Angeles County can grow healthy food in their neighborhood.
"We live in an exciting new era! More and more people around the globe are realizing the benefits of community gardening," Julie Beals, LACGC Executive Director, said.
"Growing our own food gets us outdoors and exercising, it is a way for us to meet our neighbors, and it makes eating healthily so much easier. Community gardens are places where people come together to share their love of gardening, regardless of their ethnic or socioeconomic background. Community gardens transcend social barriers and they are proven to help reduce crime in our neighborhoods."
To find a community garden in the Los Angeles area, visit the LACGC website.
Not in LA? No worries. The ACAA website can help you locate a community garden near you, or teach you how to start one in your neighborhood.
You can also connect to local kitchen gardeners through Kitchen Garden International. The website also offers resources and inspiration to get you started and keep you active.
Here are a few tips to get you started on your own backyard Kitchen Garden.
• As a first timer, you might want to start small so your garden is manageable while you are learning the ropes. Consider a raised garden.
Since you are building a structure to contain the soil and plants, they can be placed where you want them, tend to be cleaner, and typically contain fewer weeds, meaning less work for you. Raised gardens can also reduce back strain.
Better Homes and Gardens suggest building the raised garden beds so they are at least 12 inches tall.
"If the walls are slightly below waist level, you can sit on edges to work the soil and harvest your bounty without having to bend over at all."
• Plant what you like to eat. That way your garden stays top of mind, and its yield will be rewarding.
• Give your garden a sunny spot, with at least six full hours of sunshine per day. Pick a location close to the kitchen, if possible.
• Make sure a water source is nearby.
• Before you plant, get to know your soil. Is it alkaline or acidic? Do a pH test to find out.
Another option is to consult your local county extension office or university about doing a full soil test for a nominal price. The experts there can explain what the measurements mean and how to get the best production from your garden.
• It's a great idea to amend your soil with quality compost and rototil it in — about one cubic yard for every 300 square feet of garden — before planting.
"After the first growing year, no rototilling is necessary. Just add a few inches of compost to the top of the soil; let the winter rains work the compost in," says Fred Hoffman, producer/host of the "KFBK Garden Show" in Sacramento, California.
• Every garden needs some sort of fertilizer, so go organic with a mix of fish emulsion and sea kelp, available at most garden shops and nurseries.
If you can't find it locally, no worries. There are plenty of great all-in-one organic fertilizers available. Just be sure to pick one labeled for use in vegetable gardens, and follow the label directions.
• While plants are new, keep the roots wet until they establish themselves. Once your garden is established, regular deep waterings are best. Water once or twice a week making sure the water reaches the roots.
Consider investing in a drip or soaker hose to deliver water slowly.
• As a beginning vegetable gardener choose hybrid seeds over heirlooms. Hybrid vegetables have more disease and pest resistance, as well as larger yields.
"Heirloom varieties have more unique shapes and flavors, but can be problematic for the first time gardener," Hoffman said.
For more tips on how to successfully grow your own vegetables, consult local gardening clubs, county and university extension services, or your local library.
Sources:
Interview. Roger Doiron April 11, 2011. Kitchen Garden International
http://kgi.org
Tips for starting your first backyard garden. Fed Hoffman. Accessed April 1, 2015 at
http://farmerfredrant.blogspot.com/2012/02/tips-for-starting-your-first-backyard.html
Vegetable Research and Information Center, UC Davis University Cooperative Extension.
http://vric.ucdavis.edu/main/veg_info.htm
Raised Garden Beds: Grow a Vegetable Garden in Raised Beds. Better Homes and Gardens. Justin W. Hancock. Online at:
http://www.bhg.com/gardening/vegetable/vegetables/grow-a-vegetable-garden-in-raised-beds
American Community Garden Association Website.
http://www.communitygarden.org
Reviewed April 2, 2015
by Michele Blacksberg RN
Edited by Jody Smith