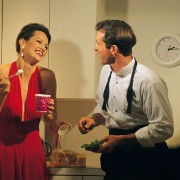 Photo: Getty Images
Late-night snackers unite! Eat when you want. Don't be pushed around by people who tell you it's unhealthy to eat a snack or meal before bedtime, especially if you haven't had dinner yet. But beware, the calories aren't free.
Your body doesn't care if it's noon or midnight. It handles all food the same no matter what time of day it is. True, the calories may hang around longer if you're not active, but when you are active the next day, you will burn the calories.
Bear in mind, it's never a good idea to go to bed on a full stomach, because it may prohibit you from being able to get a good rest. Some think that too is an old wives' tale.
So if you must eat, go ahead, but make sure what you're noshing on is not breaking your calorie bank for the day. Make sure what you are snacking on is healthy—not a bag of chips or a gargantuan bowl of ice cream.
Do you have a question about Diet, Nutrition, and Weight Loss? Check out EmpowHER's pages. Sign-up, post a question, share your story, connect with other women in our groups and community, and feel EmpowHERed!
Resource:
Busting 10 Diet Myths
Christine Jeffries is a writer/editor for work and at heart, and lives in a home of testosterone with her husband and two sons. Christine is interested in women's health and promoting strong women.