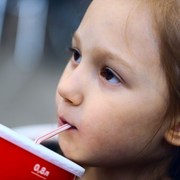 iStockphoto/Thinkstock
Portion control. We're all familiar with it. Some of us fight the battle by choosing a smaller plate, others decide to box half as soon as the food comes, while others simply employ a strong will power.
Whatever the case, we don't often seek governmental intervention when it comes to over-eating, over-drinking, or any other gluttonous pastime.
Just this month, however, New York mayor Michael Bloomberg proposed a city-wide ban on the sale of sugary soft drinks weighing in at over 16 ounces. If the ban passes, soda lovers will have to either buy multiple soft drinks, or go back for refills.
The proposal would give the city's health department the power to fine restaurants, movie theatres and delis, among other distributors of colossally-sized soft drinks.
Although many individuals feel that this kind of governmental intervention is a little too 1984, this isn't the first time New York, or any other city for that matter, has taken this kind of measure to ensure better health for their citizens.
According to Reuters, "The Bloomberg administration has successfully fought off legal challenges to past health initiatives, including a ban on smoking inside bars and a requirement that chain restaurants print calorie counts on their menus. It has said it is confident the sugar drink proposal would withstand legal scrutiny."
With this ban, the Bloomberg administration hopes to lower rates of obesity, and help its citizens make better nutrition choices.
Although some individuals feel that we should be able to guzzle down endless amounts of soda if desired, many point to a nation-wide obesity epidemic, and are asking, who can blame them for trying?
According to the CDC, more than one third of U.S. adults are obese. And, as many of us know, obesity is a serious health issue. The CDC cites that obesity-related health conditions include heart disease, stroke, type II diabetes, and certain types of cancer — all which can lead to some of the most prevalent causes of death.
It's important to remember that the ban would not put a restriction on an individual's soda consumption. However, it would act as an inconvenience with the hopes to decrease sugar consumption, waistlines, and health costs.
With the average bladder maxing a capacity of 17-18 ounces, is there really a need for larger sizes?
Sources:
Ax, J. (n.d.). Legal challenges to New York soda ban face uphill climb| Reuters. Business & Financial News, Breaking US & International News | Reuters.com. Retrieved June 10, 2012, from
http://www.reuters.com/article/2012/06/04/us-usa-sugarban-legal-idUSBRE8...
Elert, G. (n.d.). Volume of a Human Bladder. hypertextbook.com. Retrieved June 10, 2012, from
http://hypertextbook.com/facts/2001/DanielShaw.shtml
Obesity and Overweight for Professionals: Data and Statistics: Adult Obesity - DNPAO - CDC. (n.d.). Centers for Disease Control and Prevention. Retrieved June 10, 2012, from
http://www.cdc.gov/obesity/data/adult.html
Reviewed June 12, 2012
by Michele Blacksberg RN
Edited by Jody Smith