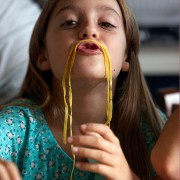 Photo: Getty Images
May is National Mediterranean Diet month, making it a perfect time to learn more about the benefits of adopting this healthy eating lifestyle. Have you heard of it, but aren't really sure what it's all about? According to the www.oldways.org website, "Traditional Mediterranean meals are based on plentiful fruits, vegetables, beans and legumes; an abundance of bread, pasta, rice, couscous, and other grain foods, especially whole grains; nuts and peanuts; extra virgin olive oil; fish, poultry and lean red meat; cheese and yogurt; and moderate amounts of wine. These are the foods and drinks traditionally consumed by people living in the countries bordering the Mediterranean Sea."
The diet particularly benefits women with heart-healthy calcium, potassium, and iron-rich foods that promote healthy living and helps avoid conditions such as osteoporosis, heart disease, and anemia. The good fats also can promote a healthy pregnancy, bringing vital nutrients for a baby's developing brain.
Before starting any new diet, it's a good idea to consult with your doctor about how changed habits will affect your personal health and any conditions you may have.
Do you have a question about nutrition and diet? Check out EmpowHER's pages. Sign-up, post a question, share your story, connect with other women in our groups and community, and feel EmpowHERed!
Resource:
Oldways.com: Med Diet Tips for Women
EmpowHER.com: Mediterranean Diet Articles
Reviewed May 19, 2011
Edited by Alison Stanton
Christine Jeffries is a writer/editor for work and at heart, and lives in a home of testosterone with her husband and two sons. Christine is interested in women's health and promoting strong women.