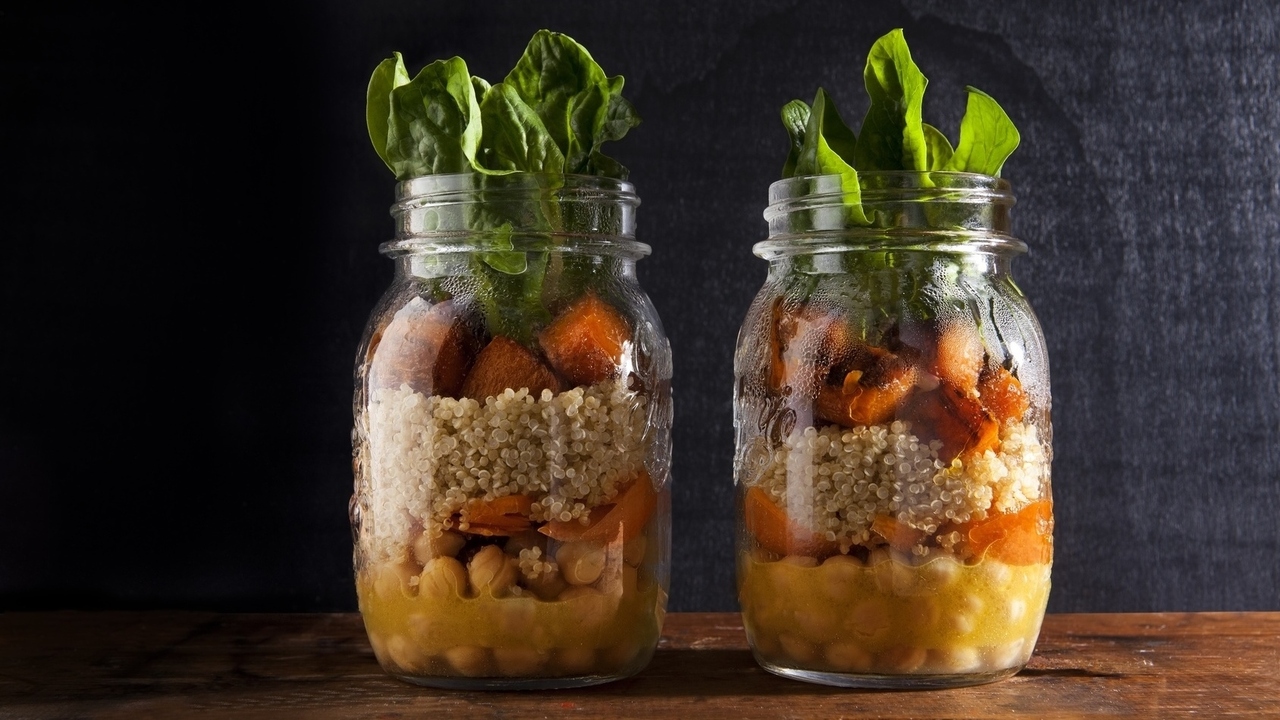 irinagrigorii/Fotolia
I'll admit I have been totally skeptical about this whole meal-in-a-mason jar craze. It was just a little bit TOO hipster for me to take seriously.
What's wrong with frantically digging through all your mismatched Tupperware containers and lids every morning before work/school, dumping whatever leftover mash you can find into it, and hoping that it doesn't spill into your purse before you eat lunch?
All those Pinterest junkies make tidy, organized, adorable food preparation look TOO easy. And that is sooo not me.
As a person who is perpetually on the go, bouncing between school and two jobs without any suggestion of a fixed schedule or a time to sit down and eat a meal during the day, I tend to just toss a bag of carrots and a couple apples in my backpack before I leave my home in the morning and hope for the best.
This often means that I get super-hungry in the afternoon and make LESS-THAN nutritious snack choices that totally throw off any chance of healthy, balanced eating.
It's a dangerous cycle that causes me to feel sluggish, and leaves me less productive, focused and friendly. It also usually means that I eat poorly for dinner as well — a general recipe for being unhappy with my diet. Plus, it totally drains my wallet.
But until now, I didn't think of mason jars as a solution to my bad eating habits. I didn't think that I could be one of THOSE people — the kind who has everything figured out, who is organized enough to pack lunches the night before, or who can make something look as cute/artistic as the examples that get posted online.
BOY WAS I WRONG!
Just doing some research for this article, I think my life is on the cusp of changing forever. Because packing a meal in a mason jar is SO easy, SO convenient, SO delicious, SO healthy and SO MUCH a time/money-saver, I would be an idiot to ignore all the incredible mason-jar recipes and suggestions that exist on the internet.
Below, I'm sharing seven of the recipes I found especially tantalizing, but there are SO MANY MORE. I can't wait to hear what you think of these.
Breakfasts
Overnight oats are so easy to make that it is almost harder NOT to make them. You literally just put oats, liquid and whatever other add-ins you like into a jar, throw it in your fridge and Voila! — in the morning, classy, healthy, delectable breakfast is ready. This recipe is a classic — and a combination of two of my very favorite foods.
Overnight oats are nearly as trendy as mason jars, but what about when you are craving eggs? This recipe gives instructions for a fast and filling breakfast meal that bakes in a jar and can be easily taken to-go, or enjoyed in the comfort of your home. The recipe includes meat, but eggs are already packed with good protein, so is not necessary.
You can substitute kale for spinach or toss in other vegetables that are lying around your home. ALSO — once baked, these meals will stay fresh for several days when sealed and refrigerated. Make a big batch on Sunday and revel in your nutritious, delicious, no-hassle egg breakfasts all week.
Salads
The idea with mason jar salads, is that they are awesome not simply because they look nice, but because they are packed intelligently. The wet ingredients (like dressing) sit on the bottom of the jar so that the other ingredients (like your leafy green) don't get soggy.
When you EAT your salad (if you can stop admiring it for more than 27 seconds) you can empty it into a bowl and have a fresh, evenly distributed and dressed salad. Check out this blog for a detailed tutorial on building your mason jar salad (and a bonus recipe to boot!!)
3) Butternut Squash and Quinoa Salad
Check out this blog for a detailed tutorial on building your mason jar salad — and a bonus recipe to boot! This recipe attains that perfect lunch-time balance of filling you up, but not sending you into a food coma.
The protein-rich quinoa will keep you feeling full for a longer time, the roasted veggies provide you with a delicious mix of vitamins, and even the apple-cider vinaigrette dressing has anti-inflammatory properties that promote health.
Plus, it's easy to toss a slew of root vegetables into the oven and distribute them into jars. You won't regret it!
4) Chicken (or Tofu) Detox Salad
This recipe is so simple, cheap and packed with veggies that it will keep you on track — or help you get on track — to meet your goals for healthy, balanced eating. It's really too good to pass up. Not only is it colorful, but it highlights high-fiber foods that will keep you feeling full and aid in digestion.
The recipe itself calls for chicken, but you could easily swap it out for another lean meat like turkey, or a meat substitute like tofu.
Non-Salads
Not on the salad-for-lunch train? Got you covered!
Here are some awesome, still healthy and simple and beautifully appropriate-for-a-mason-jar meals.
Chili is one of my very favorite meals to make for large groups and/or for leftovers. It is so easy to make and only gets better after sitting in the fridge for a couple days.
But this recipe takes everything to another level by showing how to bake cornbread right in with the chili! This is totally perfect for serving as a meal at home OR for packing into a lunch.
This super-healthy concoction is packed with protein, and satisfies any cravings you might have for less-nutritious Thai noodle takeout. I love anything with spicy peanut dressing so much that I could eat this meal literally every day for a week.
Thanks to the mason jars, one batch of the salad will keep at least that long when sealed.
Can't NOT include a dessert. You're welcome. It's even healthy!
7) Apple Crisp
This dessert can go with you to work OR impress guests at home with its adorable presentation. I would recommend reducing the amount of sugar in the filling or exchanging it for honey. You can also substitute butter for coconut oil if you are looking for a dairy-free option. SO GOOD!
I hope you are as inspired by these recipes as I have been. Please share your own favorites in the Comments section.
Edited by Jody Smith