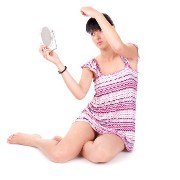 Photo: Getty Images
You may be one of the many who experienced a "what is this world coming to?" moment when you heard about the South Dakota girl who recently had cosmetic surgery on her ears. It was the youngster's age that gave many people pause: she's just seven years old.
Then there was the ABC Nightline program a few months ago highlighting teen plastic surgery. The show reported that thousands of teens "…are so deeply dissatisfied by what they see each year that they try to permanently change the image reflected in the glass; through plastic surgery."
A quick Google search will return articles claiming that more and more teens are seeking cosmetic surgery, that parents routinely give their kids a procedure as a gift, and so on. It's no wonder that many people believe plastic surgery rates for kids are growing at an alarming pace. But it's not so. In fact, says the American Society for Aesthetic Plastic Surgery, the reverse is true.
In a recent press release the ASAPS stated that their 2010 statistics show a decrease in the overall number of surgeries for those aged 18 and younger. The total number of cosmetic procedures performed on kids in 2010 was about 125,000, less than half the number performed ten years ago. And when you exclude non-invasive cosmetic treatments, the number of actual surgeries is much smaller: 33,610.
Otoplasty—surgery to pin back the ears—is the most popular choice for kids when it comes to cosmetic surgery with over 40 percent of the total. Next is rhinoplasty, accounting for nearly 7 percent of surgeries.
Breast augmentation numbers, which some might suspect would be climbing for teens, remain low at just 4,153. This number represents just 1.3 percent of cosmetic surgeries for children.
Of the teen girls choosing breast augmentation, less than half the surgeries are for simply enlarging both breasts. According to the ASAPS, here are the other leading reasons girls opt for breast surgery:
Severe asymmetry (19 percent)
Severe underdevelopment (11 percent)
Congenital absent breast (10 percent)
Tubular breast deformity (10 percent)

(ASAPS1)
Breast reduction surgery is also an option for some teen boys and girls.
Other than these leading procedures, you may be relieved to know that just a few hundred teens have procedures like abdominoplasty, fat injections and eyelid surgery. And there are no recorded instances of buttocks augmentation, buttocks lifts, facelifts, and thigh lifts, just to name a few with a zero in the column.
Maybe the world isn't coming to an end just yet.
Resources:
ABC News. "Teens Choose Plastic Surgery to Boost Self Esteem." ABC News/Nightline. November 4, 2010. Web. April 23, 2011. http://abcnews.go.com/Nightline/teen-plastic-surgery/story?id=12163764
American Society for Aesthetic Plastic Surgery (ASAPS). "Teens and Plastic Surgery." The Mark of Distinction in Cosmetic Plastic Surgery®. April 2011. Web. April 23, 2011. http://www.surgery.org/media/news-releases/teens-and-plastic-surgery
American Society for Aesthetic Plastic Surgery (ASAPS). "Cosmetic Surgery National Data Bank Statistics." The Mark of Distinction in Cosmetic Plastic Surgery®. Web. April 23, 2011. http://www.surgery.org/sites/default/files/Stats2010_1.pdf