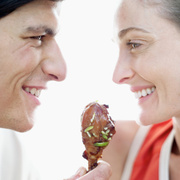 Stockbyte/Thinkstock
According to the American Heart Association, simple dietary and lifestyle changes can make a big impact when it comes to heart health. In the fight against heart disease, a healthy diet can make all the difference when it comes to lowering cholesterol and preventing future heart-related events.
It's generally accepted that a diet rich in fruits and vegetables, whole grains, low-fat dairy products, lean meats, skinless poultry, and plenty of omega-3 foods such as salmon, trout, and herring, are a winner when it comes to controlling your weight, lowering your blood pressure, and keeping that pesky cholesterol in check -- all of which contribute to heart disease.
When it comes to selecting the right heart-healthy diet, chicken and fish are certainly at the top of the list when it comes to main dishes. According to new research, those wishing to get the most out of their dietary changes may want to switch to dark meat instead of white meat.
In a study focused solely on the impact to a woman's heart health, researchers at NYU Langone Medical Center examined how the nutrient taurine affects a woman's heart health. An amino acid, taurine is a nutrient which occurs naturally in some fish, the dark meat of chicken and turkey, and breast milk.
It's believed that taurine may help to regulate levels of mineral salts and water in the blood, improve neurological development, and mental performance if used with caffeine. A popular ingredient in many energy drinks, taurine is also thought to improve athletic performance.
In addition, taurine may possess antioxidant properties which help protect against heart disease. When taking taurine in a supplement form, 3,000 milligrams is generally considered a safe dosage level.
When taurine is consumed in natural form through foods such as fish and dark meat chicken, researchers found an unexpected benefit for women with high blood cholesterol.
Women who consumed high levels of natural taurine showed significantly lower risk for coronary heart disease or CHD. Women with high levels of taurine were 60 percent less likely to develop CHD or die from heart-related conditions than women with low levels of taurine.
It should be noted that the risk reduction for heart-disease only extended to women who were already diagnosed with high blood cholesterol and not women with normal or low levels of blood cholesterol.
According to the lead study author, Yu Chen, PhD, MPH, this is the first human study to examine the effect of taurine on CHD. Chen is an associate professor of epidemiology at NYU School of Medicine which is part of the NYU Langone Medical Center. Findings were based on examining health data and blood samples from more than 14,000 women who were originally part of the NYU Women's Health Study.
Participants ranged in age from 34 to 65 years and were enrolled between the years of 1985 and 1991. Approximately 80 percent of participates were white.
Researchers examined the serum levels of taurine at the beginning of the study from participants who died or developed CHD and then compared taurine levels with participants with no evidence of CHD.
While the results are promising, the study has some limitations which make it premature to conclude that all people with high blood cholesterol will enjoy the same results when consuming taurine.
Firstly -- and somewhat refreshingly -- this study consisted solely of women, and it's unknown whether or not men with high blood cholesterol would exhibit the same results.
In addition, the majority of the participants were white. Since ethnicity can play a role in heart disease, it's not clear if the benefits extend to women of all ethnicities.
Despite the study's limitations, the results offer many possibilities for future guidelines to prevent CHD. More studies on the benefits of taurine are certain to follow.
In the meantime, if you're looking to add some heart-healthy dietary changes to your daily menu, why not consider a daily dose of fish or dark meat chicken? The only thing you have to lose is heart disease!
Sources:
Katherine Zeratsky, R.D., L.D., Nutrition and Healthy Eating, Taurine in energy drinks: What is it? The Mayo Clinic. 26 Jun 2012, http://www.mayoclinic.com/health/taurine/AN01856
NYU Langone Medical Center / New York University School of Medicine (2012, March 1). Nutrient found in dark meat of poultry, some seafood, may have cardiovascular benefits. ScienceDaily. Retrieved March 4, 2012, from http://www.sciencedaily.com/releases/2012/03/120301113353.htm
Diet and Lifestyle Recommendations. American Heart Association. 21 May 2010. http://www.heart.org/HEARTORG/GettingHealthy/Diet-and-Lifestyle-Recommendations_UCM_305855_Article.jsp#.T1QksPXYEot
Reviewed March 6, 2012
by Michele Blacksberg RN
Edited by Jody Smith