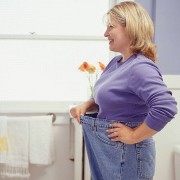 Photo: Getty Images
It's long been accepted that obesity is one of the risk factors for developing heart disease. Despite the plentiful abundance of diets guaranteed to peel off the pounds, shrink that waist, and miraculously cause unwanted inches to be a long-forgotten reality of the past, many Americans remain overweight. Despite their best efforts, millions of Americans from all walks of life, ethnicities, education levels, income circle, and ages (just to name a few), remain overweight. When traditional diet and exercise fails to produce desired results many turn to some type of bariatric surgery for weight loss help.
Often referred to as weight loss surgeries, bariatric surgery changes your digestive system in such a way that you're physically unable to eat as much food as before. Since gastric bypass is major surgery, it's generally reserved for those who are severely overweight, can't exercise for some reason, or have been unable to lose weight with traditional diet and exercise. (Generally, if you have a Body Mass Index - BMI - over 40 or a BMI between 35-39.9 and have other health conditions such as high blood pressure or diabetes, then you might be a candidate for gastric bypass.) While there are various types of gastric bypass procedures (Roux-en-Y, Biliopancreatic diversion with duodenal switch, and lap-band adjustable gastric banding or LAGB, just to name a few), the changes to the digestive system are generally permanent and a real commitment to lifestyle changes is required for success. But, when success is achieved, the results can be spectacular as a new slimmer you emerges as the pounds melt off.
Obesity brings with it a myriad of health problems - high blood pressure, diabetes, and heart disease - as an example. For those who have had successful gastric bypass, the long-term benefits to their overall health can be significant, resolving such conditions as diabetes, obstructive sleep apnea, and gastroesophageal reflux disease (GERD). Researchers now indicate that within the first year, gastric bypass weight loss also has a significant (and positive) effect on lipoprotein levels. Lipoproteins (high-density lipoprotein or HDL/good cholesterol and low-density lipoprotein or LDL/bad cholesterol) contribute to your risk of heart disease and are affected by excess weight. Too much LDL from being overweight (or too little of the good HDL) and your risk for heart disease increases.
In a study conducted by researchers from Tufts University, the University of California-Dave and Oregon Health and Sciences Center, researchers followed a group of 38 women (19 lean-and-mean women and 19 gastric bypass patients) and examined blood samples for cardiovascular disease (CVD) markers, including such things as glucose and insulin levels, triglycerides, HDL, LDL, apolipoprotein A-I, and so forth. In the gastric bypass group, blood levels were checked before surgery, one month after and follow-up at a year post-surgery. (The lean-and-mean control group were also checked at these intervals as well.)
Not surprisingly, the researchers found at the beginning that the gastric bypass candidates had much higher levels of all the "bad" blood profiles (too much glucose, insulin, LDL cholesterol and triglycerides) and not nearly enough of the good things such as HDL cholesterol. Those results, however, changed dramatically over time. Researchers indicated that the results were similar to what might be expected of someone on a statin (cholesterol lowering) drug, with the gastric bypass patients seeing results such as a 25 percent increase of good HDL cholesterol (some even had 177 percent increase). Overall, not only was health improved, but gastric bypass patients saw a significant improvement in lipoproteins and greatly reversed their risk of developing CVD.
It should be noted that this study focused solely on women and it's unknown whether men would have the same results with respect to heart health as women. Researchers also did not track the participants' lifestyle changes such as diet, exercise or cessation of smoking of alcohol intake. It appears that regardless of how the weight it lost, there is results are the same - improved overall health and reduced risk of heart disease.
Sources:
Sources
Gastric bypass surgery, The Mayo Clinic, 10 Oct 2009, http://www.mayoclinic.com/health/gastric-bypass/MY00825
American Society for Biochemistry and Molecular Biology (2010, September 17). Significant weight-loss from surgery decreases risk for cardiovascular disease in women. ScienceDaily. Retrieved September 19, 2010, from http://www.sciencedaily.com¬ /releases/2010/09/100916145135.htm
Journal Reference:
1. Bela F. Asztalos, Michael M. Swarbrick, Ernst J. Schaefer, Gerard E. Dallal, Katalin V. Horvath, Masumi Ai, Kimber L. Stanhope, Iselin Austrheim-Smith, Bruce M. Wolfe, Mohamed Ali and Peter J. Havel. Effects of weight loss, induced by gastric bypass surgery, on HDL remodeling in obese women. Journal of Lipid Research, 2010 51:(8) 2405-2412 DOI: 10.1194/jlr.P900015-JLR200