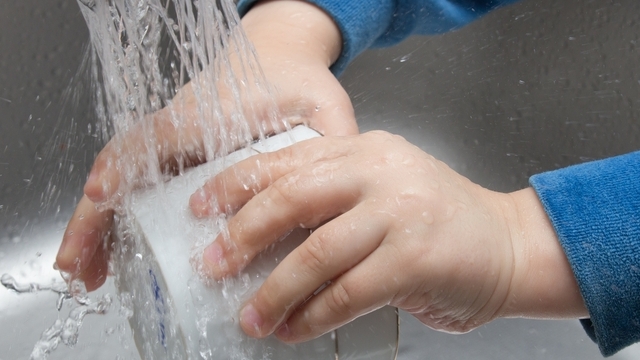 Andrej Shupilo/PhotoSpin
Has our obsession with cleanliness backfired? A new research suggests that our overly clean environments may be increasing our risk of developing allergies
The study published in the journal of Pediatrics looked at whether various behaviors─including hand-washing dishes as opposed to using a machine─could protect children from developing allergies by exposing them to bacteria early in life.
After following 1,029 Swedish children and noting whether their families washed dishes by hand, researchers found an association between the behavior and fewer allergies.
Children from families who washed their dishes by hand had half the rate of allergies of those from families who used a machine. Certain behaviors can expose children to bacteria and allow for their immune system to strengthen, said Bill Hesselmar, assistant professor at the University of Gothenburg and lead author of the study.
This finding supports the hygiene hypothesis which proposes that in a developed country environments are too clean to allow children's immune systems to train to recognize bacteria.
Although more research is needed to know whether the relationship is real, it is believed that the bacteria left behind by hand-washing dishes could have benefits, said Dr. Hesselmar. Since hand-washing may not be as effective at reducing bacteria, kids are exposed even if they are not actually involved in doing the dishwashing.
Sources:
Allergy Risk May Be Tied to How You Wash Your Dishes. The New York Times. Retrieved February 23, 2015. http://well.blogs.nytimes.com/2015/02/23/allergy-risk-may-be-tied-to-how-you-wash-your-dishes/
Kids, Allergies And A Possible Downside To Squeaky Clean Dishes. NPR Health. Retrieved February 23, 2015. http://www.npr.org/blogs/health/2015/02/23/387553285/kids-allergies-and-a-possible-downside-to-squeaky-clean-dishes
All user-generated information on this site is the opinion of its author only and is not a substitute for medical advice or treatment for any medical conditions. Members and guests are responsible for their own posts and the potential consequences of those posts detailed in our Terms of Service.
Tags: