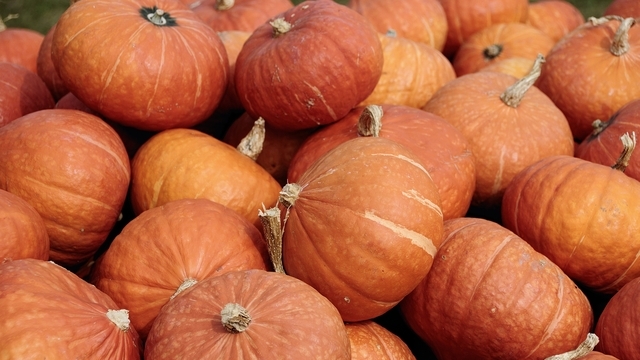 While jack-o-lanterns may be the first thing that comes to mind for October, you will want to explore the many nutritional values of eating pumpkins and their seeds. Not sure how to cook a pumpkin? Read on for a delicious dish that is served in a pumpkin.
Pumpkins: Pump Up Your Antioxidants
Think beyond the decorating possibilities of pumpkins! Scrumptious when prepared as a soup, as a side dish with your favorite meal, or baked in a sweet treat, pumpkins are packed with disease-fighting nutrients. They are rich in potassium with a good amount of iron, zinc, and fiber. The bright orange flesh is loaded with beta-carotene, which keeps your immune system strong, benefits vision, helps prevent heart disease, and may defend against cancer. The pumpkin is also the perfect fit for losing weight due to its incredibly low calorie and high fiber content. The sweetest taste can be found in the small-sized pumpkin varieties known as sugar pumpkin or pie pumpkin.
Pumpkin Seeds
Don't forget to save the seeds! Pumpkin seeds can be dried and roasted for a crunchy, tasty treat. Pumpkin seeds are rich in heart-healthy fats, zinc, fiber, vitamin E, magnesium, and iron. Sprinkle them into soup, salads, yogurt or any dish you want to add crunch to. They are also a delicious addition to trail mix or your morning cereal!
Stuffed Pumpkin Recipe
This simple recipe came from a patient of mine who claimed that it was her parents' favorite recipe. Both of her parents are still living and are in their nineties, so it must be a good match for longevity! I can see why: the pumpkin's rich content of vitamins like beta-carotene, sesame's supply of rich fatty acids and lignans, and onions for immune health make this dish deliciously healthy.
Ingredients:
• 1 small pumpkin, about 4 pounds (small enough to fit inside a large Dutch oven with a lid)
• Vegetable oil
• 3 cups cooked brown rice
• 1 tablespoon toasted sesame seeds, crushed
• 3 stalks celery, chopped
• 1 onion, finely chopped
• 1 tablespoon chopped fresh parsley
• 1 teaspoon fresh thyme leaves
• 1 teaspoon chopped fresh sage
• 1/2 teaspoon chopped fresh rosemary
• 1 tablespoon tamari
Preparation:
1. Preheat the oven to 350°F. Grease a large Dutch oven with oil.
2. Wash the exterior of the pumpkin well. Cut off the top, clean out the seeds and membranes and discard. Rub the exterior of the pumpkin with oil and put it into the Dutch oven. Put the pumpkin lid on and then check to see if the Dutch oven lid fits; trim or remove the pumpkin stem if necessary.
3. In a large bowl, stir the rice, sesame seeds, celery, onion, parsley, thyme, sage, rosemary, and tamari together until well combined. Transfer the stuffing to the pumpkin cavity, replace the pumpkin top and cover with the lid. Bake for 75 to 90 minutes, until a fork easily pierces the pumpkin.
4. Remove from the oven, remove the lid, and let the pumpkin stand about 10 minutes. Carefully use two large spoons to transfer the pumpkin to a serving platter. Serve whole at the table for guests to help themselves to the softened pumpkin and stuffing.
May you Live Long, Live Strong, and Live Happy!
--Dr. Mao Shing Ni, best known as Dr. Mao is a bestselling author, doctor of Oriental Medicine and board certified anti-aging expert. He has recently appeared on The Ricki Lake Show, Dr. Oz, and contributes to Yahoo Health and The Huffington Post. Dr. Mao practices acupuncture, nutrition, and Chinese medicine with his associates at the Tao of Wellness in Santa Monica, Newport Beach and Pasadena. Dr. Mao and his brother, Dr. Daoshing Ni, founded the Tao of Wellness more than 25 years ago in addition to founding Yo San University in Marina del Rey. To subscribe to his tip-filled newsletter please visit www.taoofwellness.com. To make an appointment for evaluation and treatment please call 310-917-2200 or you can email Dr. Mao at [email protected]
Tags: