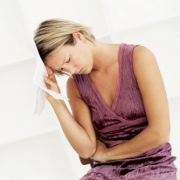 Photo: Getty Images
Inside the human stomach could well be one of the most hostile places on Earth.
Stomach acid is mainly comprised of super-strong hydrochloric acid that aids in digestion and does a miraculous job of killing microorganisms, such as parasites and bacteria.
So it has been puzzling how any bacteria could not only survive, but in some cases thrive long enough in such a hostile environment to cause health problems from stomach ulcers to stomach cancer, lymphoma, type 1 diabetes, autoimmune thyroiditis and other chronic illnesses.
That's the question scientists have been asking for a long time, and now they may be closer to having an answer. The discovery could also give clues in preventing and better treatments for cancer, Alzheimer's disease and Parkinson's disease.
It starts with Helicobacter pylori (H. pylori), the only bacteria known to survive in the highly acidic human stomach.
Having an H. pylori infection is associated with peptic ulcers and an increased risk of gastric cancer, one of the most common and deadly cancers worldwide. In the United States, half of the estimated 21,000 new gastric cancer diagnoses in 2010 will succumb to the disease. The global statistics are even more startling.
Each year, nearly one million people are diagnosed with gastric cancer, and nearly three-quarters of those will die from the disease, the second leading cause of cancer-related deaths worldwide according to American Cancer Society's 2008 estimates for global cancer statistics.(GLOBOCAN)
The thing is, H. pylori bacterium is extremely common. Best estimates suggest half the world's population, (7 billion of us) is currently infected with H. pylori, but most people don't even know they have it. That's because H. pylori can be symptom-free for a long time. What's more, the bacteria can sometimes be difficult to diagnose, according to the American College of Gastroenterology.
Researchers believe most of us are exposed to the bacteria as children. H. pylori is passed from person to person through direct contact with saliva, vomit or fecal matter, or spread through contaminated food or water.
Recent research suggests some people may actually be born with a heightened resistance to H. pylori's harmful effects, so while they may have the bacteria, they probably will never get sick from it.
In those who are not as lucky, the bacterium can persist as a long-term infection that damages the stomach lining and increasing the person's chance for cell mutations that can lead to several types of cancer.
A new study led by Steven Blanke, a microbiologist at University of Illinois, and published in Proceedings of the National Academy of Sciences, is the first to show how H. pylori toxin can disrupt a healthy cell's mitochondria, the cell's internal energy-generation and distribution system. It turns out the toxin disables the otherwise healthy cell's internal mechanism and speeds up its programmed death.
This cell death, called apoptosis, can cause long-term damage to the stomach lining, a known risk factor for cancer. An increase in apoptotic cells can also cause a hyper-proliferation of stem cells dispatched to the damaged area in an attempt to repair the tissue. Too many stem cells can increase a person's chance of cell mutations that can also lead to cancer, Blanke said in a written statement.
Previous studies had shown that VacA, a protein toxin produced by H. pylori, regulates host cell death by targeting the mitochondria, but exactly how it did it was not understood.
In healthy cells, mitochondria fuse to form elaborate energy-generating networks in response to the cell's needs. However, if this process becomes dysfunctional illness can follow. According to Blanke, mitochondrial dysfunction is associated with hundreds of diseases and disorders, including cancer and degenerative diseases like Alzheimer's disease and Parkinson's disease.
"To us, finding that a pathogen can disrupt mitochondria in a manner that has striking similarities to what has been observed in known mitochondrial diseases is potentially very exciting and opens a new avenue of investigation of diseases linked to impaired mitochondrial function, " he said.
Lynette Summerill, an award-winning writer and scuba enthusiast lives in San Diego, CA with her husband and two canine kids. In addition to writing about cancer-related issues for EmpowHER, her work has been seen in newspapers and magazines around the world.
Sources:
Diabetology &Metabolic Syndrome. Helicobacter pylori infection might be responsible for the interconnection between type 1 diabetes and autoimmune thyroiditis. Mervat El-EshmawyAmany El-HawarySoma Abdel GawadAzza El-Baiomy. 2011, 3:28. Accessed online 2 Nov 2011 at: http://7thspace.com/headlines/397989/helicobacter_pylori_infection_might_be_responsible_for_the_interconnection_between_type_1_diabetes_and_autoimmune_thyroiditis_.html
Medline. Epidemiology of Gastric Cancer. Incidence and Mortality references 1 and 2; accessed 1 Nov. 2011 at http://www.uptodate.com/contents/abstract.do?topicKey=GAST%2F2616&refNum=1%2C2
Medscape Medical News. "PCR Bests Immunohistochemistry in Detection of H pylori". Sandra Yin. 1 Nov. 2011 http://www.medscape.com/viewarticle/752672
University of Illinois Urbana-Champaign News Release. Team Discovers How a cancer causing bacterium spurs cell death. Diana Yates. Accessed online 1 Nov. 2011 at:
http://www.eurekalert.org/pub_releases/2011-11/uoia-tdh110111.php
Reviewed November 3, 2011
by Michele Blacksberg RN
Edited by Jody Smith