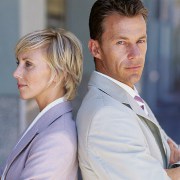 Photo: Getty Images
After diagnosis, women are more likely overall to survive cancer than men, but the reasons for this have been unclear. While scientists have long known gender to be an important factor in the way disease originates and develops, is diagnosed, and what a person's likely outcome will be, until now, no one has examined why the risk of malignancy is higher in men than women in a majority of specific cancer types.
Is it because of hormone or body mass differences between the sexes? Do men have higher exposure to cancer-causing substances than women, or are they just more susceptible to harmful carcinogenic effects or viral infections that can lead to cancer? Are women more likely to seek medical care than men? Or is it a complex set of some or all of these factors, and can social and clinical changes be made to affect better outcomes for men, as well as women?
Michael B. Cook, Ph.D., an investigator in the division of cancer epidemiology and genetics at the National Cancer Institute, and colleagues set out to answer these important questions by piecing together clues about 36 specific cancers. The results were published early online, in the August 2011 print edition of Cancer Epidemiology, Biomarkers & Prevention, a journal of the American Association for Cancer Research.
Cook and his colleagues used U.S. vital rates and survival data between 1977-2006 from the Surveillance Epidemiology End Results (SEER) database for specific cancers by sex and age. They assessed whether cancer mortality rates and cancer survival differed by sex.
In their analysis of five-year cancer survival, the researchers adjusted for age, year of diagnosis and tumor stage and grade, when this information was available. Cook and his team found that a person's sex did not play a major role in cancer survival.
For many cancers, men have poorer survival than women but the differences are slight. It is difficult to assign any singular root cause, according to the study, but influences include differences in behavior of the individual tumor, people without symptoms getting cancer screening, presence of other illnesses and how often the person gets regular medical care.
For example, in cancers with the largest sex differences in survival, the sex with the poorer survival almost always was diagnosed with less treatable later stage and higher grade tumors, the study said.
This mirrors a 2009 British study that found four in 10 men were fearful of doctors, and did not seek medical care or seldom told their doctors about any symptoms they might be experiencing during a visit. As a result, men were most often diagnosed when the disease had progressed. The British study also found men are also less willing than women to switch to healthy lifestyles, despite obesity and smoking being the two primary causes of cancer.
For other cancers, there is no ready explanation for differences between the sexes. Take the 31,700 new cases of non-Hodgkin's lymphoma in men in 2000, compared to only 23,200 in women—a 50 percent higher incidence. "I have zero ideas about why [there is a] difference [for this cancer], but it's really quite striking," said Harmon Eyre, M.D., former chief medical officer of the American Cancer Society.
Results in the Cook study showed cancers with the highest male-to-female mortality rate ratios were: lip cancer (where 5.51 men died compared to 1 female); larynx cancer (5.37-to-1); hypopharynx— the part of the throat that connects to the esophagus (4.47-to-1); esophageal cancer (4.08-to-1); and urinary bladder cancer, one cancer where women's death risk was slightly higher than men despite more men receiving more diagnoses (3.36-to-1).
Cancers with the highest mortality rates also showed greater risk of death in men than women: lung cancer and bronchus cancer (2.31-to-1); colon and rectum cancers (1.42-to-1); pancreatic cancer (1.37-to-1); leukemia (1.75-to-1); liver cancer and cholangiocarcinoma (also called intrahepatic bile duct cancer)(2.23-to-1).
"Our research suggests that the main factor driving the greater frequency of cancer deaths in men is the greater frequency of cancer diagnosis, rather than poorer survival once the cancer occurs," said Cook. "If we can identify the causes of these gender differences in cancer incidence then we can take preventative actions to reduce the cancer burden in both men and women."
Lynette Summerill is an award-winning writer who lives in Scottsdale, Arizona. In addition to writing about cancer-related issues for EmpowHER, her work has been seen in newspapers and magazines around the world.
Sources: Gender differences that don't make sense, or do they? Journal of the National Cancer Institute, Vol. 92, Issue 19, pp 1560-1562. Accessed at: http://jnci.oxfordjournals.org/content/92/19/1560.full
Sex Disparities in Cancer Mortality and Survival. Michael B. Cook et al. Cancer Epidemiology, Biomarkers & Prevention. 20(8). August 2011. doi: 10.1158/1055-9965.EPI-11-0246. Advanced copy made available prior to publication. Access at www.aacrjournals.org.
Men 40 Percent More Likely to Die of Cancer Due to Fear of Doctors. David Derbyshire. The Daily Mail. 2009. Accessed at: http://www.dailymail.co.uk/health/article-1193072/Men-40-likely-die-cancer-fear-doctors.html
Reviewed July 12, 2011
by Michele Blacksberg R.N.
Edited by Alison Stanton