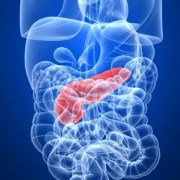 Photo: Getty Images
Both Steve Jobs and Ralph Steinman made the news for their deaths from pancreatic cancer in 2011. Steve Jobs was the wealthy businessman who ran Apple Computer. Ralph Steinman was a scientist who won the Nobel Prize for his work on the immune system.
Steinman's own research kept him alive longer than expected. Tragically, however, he died three days before the Nobel Prize Committee called to notify him of his award.
Katherine Harmon wrote a feature article on Steinman for Scientific American. He was diagnosed with pancreatic adenocarcinoma in 2007. This is the most common form of pancreatic cancer.
The Mayo Clinic website explains that adenocarcinoma forms in the ducts of the pancreas, and is also called an exocrine tumor. Cancer that forms in the hormone-producing cells is called endocrine cancer, and is much rarer.
Harmon explained that Steinman's 4.5-year survival after diagnosis was more exceptional than Jobs' 8-year survival, because Jobs had the endocrine type of pancreatic cancer. Endocrine cancers grow more slowly, and the course of Jobs' disease was closer to average than was Steinman's.
Steinman was treated with standard surgery, known as the Whipple procedure, and chemotherapy with gemcitabine. In addition, he received experimental therapies to boost his immune defense against the cancer.
Harmon provided the following timeline:
1. Late 2007: the GVAX dendritic cell vaccine for pancreatic cancer, which uses technology similar to the Provenge vaccine for prostate cancer.
2. Winter 2007 through Spring 2008: the Argos vaccine, made from cells taken from Steinman's tumor plus his own blood cells. The Argos vaccine is in development for kidney cancer, but his colleagues obtained FDA approval to enroll Steinman in a single-patient protocol.
3. 2008 through 2010: a dendritic cell vaccine under development for melanoma, using peptides from Steinman's tumor.
4. Mid-2010: Oncovir's experimental immune stimulant Hiltonol.
5. Winter and Summer 2010: Ipilimumab, a monoclonal antibody approved for treating melanoma.
Steinman's lab data showed that something was working. However, with so many treatments overlapping, it was impossible to know how effective each one was.
Steinman died on September 30, 2011, from respiratory failure due to pneumonia. According to a Reuters report by Patrick Lannin and Mia Shanley, the Nobel Prize rules allow awards only to living scientists. However, the committee decided that Steinman will remain a winner because they made the decision in good faith that he was alive.
Therapy for pancreatic cancer, including immune therapy and chemotherapy, remains an active area of research. I found 1190 clinical trials currently (Dec. 21, 2011) listed on the registry http://clinicaltrials.gov/
References:
1. Scientific American. How Ralph Steinman Raced to Develop a Cancer Vaccine – And Save His Life. Katherine Harmon. Web. Dec. 21, 2011.
http://www.scientificamerican.com/article.cfm?id=the-patient-scientist
2. Mayo Clinic. Pancreatic Cancer. Web. Dec. 21, 2011.
http://www.mayoclinic.com/health/pancreatic-cancer/DS00357/DSECTION=causes
3. Cancer kills Nobel physician before he hears of prize. Reuters. Patrick Lannin and Mia Shanley. Web. Dec. 26, 2011.
http://www.reuters.com/article/2011/10/03/us-nobel-medicine-idUSTRE79213M20111003
Reviewed December 28, 2011
by Michele Blacksberg RN
Edited by Jody Smith
Tags: