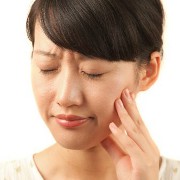 Photo: Getty Images
Most people are aware cancer treatments can cause side effects, like nausea, hair loss or feeling tired, but did you know that more than one-third of people treated for cancer develop complications that affect the mouth?
Head and neck radiation, chemotherapy and blood and marrow transplantations can cause oral complications that may interfere with cancer treatment and diminish a cancer patient's quality of life.
Cancer treatments can affect oral tissue and lead to systemic infections. The complications can vary in degrees of severity depending on the type of cancer and the treatment— from mild to so debilitating that patients may only tolerate lower doses of therapy, postpone scheduled treatment or discontinue treatment entirely.
The National Institute of Dental and Craniofacial Research, part of the National Institutes of Health, recommends cancer patients receive an oral evaluation by a knowledgeable dentist before cancer treatment begins to reduce the risk and severity of oral complications.
A pretreatment exam can identify and treat existing infections, prevent or minimize mouth complications that compromise nutrition, and reduce or prevent bone loss and potentially serious systemic infections that could jeopardize your treatment schedule.
For example, your pretreatment oral evaluation will establish a baseline report about your oral health status, making it easier in subsequent examinations to identify potential problems that could be risky to your overall health. Your dental team will also be able to treat problems that you may not be aware of, such as infection, fractured teeth or periodontal disease that could contribute to oral complications when your cancer therapy begins.
Before the exam, your dentist will need important information about your cancer diagnosis, treatment plan, medical history and dental history. This open communication between your oncology team and dentist is essential to ensure that each provider has the information necessary to deliver the best possible care.
Ideally, a comprehensive oral evaluation should take place one month before your cancer treatment begins to allow for complete recovery if an invasive dental procedure is required. Your dentist will also be able to educate you about signs of possible complications, proper nutrition during treatment and specific oral hygiene regimes to ensure you optimize your oral care during cancer treatment. He or she will also offer some self-help tips on how to ease oral side effects.
Like adults, children undergoing cancer therapy also need special oral treatment to protect their growing teeth and facial bones. Talk to your child's oncology team to see if an oral exam before and during treatment is recommended.
When your cancer treatment begins, take a moment each day during your oral care to check how your mouth looks of feels. You should call your cancer team when you first notice a mouth problem or any changes in your mouth you are not sure about or if an old problem worsens.
The National Institutes of Health has more information on oral care during cancer treatment.
Lynette Summerill is an award-winning writer who lives in Scottsdale, Arizona. In addition to writing about cancer-related issues for EmpowHer, she pens Nonsmoking Nation, a blog following global tobacco news and events.