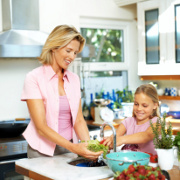 Photo: Getty Images
Foodborne illness, commonly referred to as "food poisoning", can make anyone sick. But people with weakened immune systems from chronic illnesses or those currently undergoing cancer treatments are at greater risk of experiencing a longer, more serious illness or death from eating contaminated food.
This year 1 in 6 Americans — 48 million — will get sick after eating food contaminated by harmful bacteria or other pathogens. As a result, 128,000 people will be hospitalized and roughly 3,000 will die, according to 2011 Center of Disease Control and Prevention (CDC) figures.
You can't see, taste or smell a food pathogen (disease-causing bacteria,
viruses, or parasites), so it's important cancer survivors be especially vigilant when handling, cooking, and consuming foods.
The onset of food poisoning can occur within minutes after eating contaminated food or it may take weeks before you know you're sick. The first symptoms are often flu-like, such as nausea, vomiting, diarrhea, or fever.
Foods most likely to contain pathogens fall into two categories: raw fruits and vegetables and animal products, such as unpasteurized milk, soft cheeses, uncooked eggs, meat, poultry, fish, seafood and their juices.
"The risk these foods may actually pose depends on its origin and
how it is processed, stored, and prepared," reports the U.S. Department of Agriculture (USDA) Food Safety and Inspection Service.
The Partnership for Food Safety Education, a non-profit organization that brings together industry, food science, nutrition and health professionals, consumer groups, and the U.S. government to educate the public about safe food handling, recommends following these four basic steps to ensure food safety and minimize risk:
Clean: Bacteria can spread throughout the kitchen and get onto cutting boards, utensils, counter tops and food. To lessen risk, wash your hands often in warm soapy water for at least 20 seconds and keep work surfaces clean.

Always wash produce under running water, including those with skins or rinds that are not eaten and clean off the tops of canned goods before opening. Wash cutting boards, dishes, utensils, and counter tops with hot soapy water after preparing each food item and before going on to the next food, and consider using paper towels to clean kitchen surfaces.

If you prefer cloth towels, wash them often in your washing machine's hottest cycle to prevent the spread of pathogens.

Separate: Avoid cross-contamination (spreading bacteria from one food product to another) by keeping raw meat, poultry, seafood and eggs, and their juices, away from other ready-to-eat foods.

Separate foods in the shopping cart and grocery bags, in the refrigerator, on preparation surfaces and use separate plates and utensils during the preparation and cooking process.

Cook: Use a food thermometer to measure the internal temperature of cooked foods. Check the internal temperature in several places to ensure meat, poultry, seafood, or egg product is cooked thoroughly, including hot dogs, luncheon meats, bologna, and other deli meats.

When cooking in a microwave oven, cover food, stir, and rotate for even cooking. If there is no turntable, rotate the dish by hand once or twice during cooking.

Always allow standing time, which completes the cooking, before checking the internal temperature with a food thermometer.

The USDA website has safety guidelines for minimum internal temperature for all cooked foods.

Chill: Refrigerate or freeze meat, poultry, eggs, seafood, and other perishables within two hours of cooking or purchasing; one hour if the temperature outside is above 90 degrees Fahrenheit. Cold temperatures slow the growth of harmful bacteria.

Keeping a constant refrigerator temperature of 40 °F or below is one of the most effective ways to reduce risk of foodborne illness. Use an appliance thermometer to be sure the refrigerator temperature is consistently 40 °F or below and the freezer temperature is 0 °F or below.
These tips and more food safety information for people with cancer are available online by visiting the USDA at: www.fsis.usda.gov/PDF/Food_Safety_for_People_with_Cancer_Text.pdf
Food safety information, including a podcast, for persons with chronic illnesses (HIV/AIDS, Cancer, Diabetes or Transplant Recipients) is available at: http://www.foodsafety.gov/poisoning/risk/chronicillnesses/index.html
More general information about foodborne illness is available on the CDC website: http://www.cdc.gov/foodborneburden/index.html and http://www.cdc.gov/foodsafety/cdc-and-food-safety.html
The Partnership for Food Safety Education has family-friendly information for parents and educators at:
http://www.fightbac.org
Lynette Summerill, an award-winning writer and scuba enthusiast lives in San Diego, CA with her husband and two canine kids. In addition to writing about cancer-related issues for EmpowHER, her work has been seen in newspapers and magazines around the world.
Reviewed September 13, 2011
by Michele Blacksberg R.N.
Edited by Jody Smith