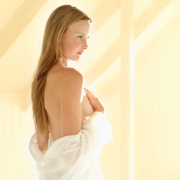 Photo: Getty Images
The ardent dream of untold millions is to find a cure for breast cancer. It is a worthy goal, one that should be pursued until the last knowledge rock is unearthed.
But what about preventing breast cancer in the first place? Like others, I dream of a world in which my daughters never have to hear those shocking words, "You've got breast cancer."
That new world could become reality in the not-so-distant future. It is looking more probable that breast cancer prevention and therapy could become as easy as better screening and a shot in the arm.
Researchers at Cleveland Clinic say a breast cancer vaccine has shown promising results in animal studies by preventing cancer in a single shot.
If successful, the breast cancer vaccine will join two other cancer preventive vaccines approved by The Food and Drug Administration (FDA): one against cervical cancer and the other against liver cancer.
While these vaccines target and kill viruses — the human papillomavirus (HPV) and the Hepatitis B virus (HBV) respectively — the breast cancer vaccine will focus on preventing the formation of cancer in healthy people and stopping growth of existing tumors.
The key is to find a target within the tumor not typically found in a healthy person. For breast cancer, Vincent Tuochy, Ph.D., the vaccine's principal investigator and an immunologist at Cleveland Clinic's Lerner Institute and his research team zeroed in on α-lactalbumin — a protein found in the majority of breast cancers, but not found in healthy women, except during lactation.
If the vaccine works in women like it did in the lab, it will beef up a woman's immune system to target α-lactalbumin to stop tumor formation without damaging healthy breast tissue.
"This vaccine shows monumental promise in the lab. We could eliminate breast cancer in adults the same way that vaccines prevent polio and measles in children," Dr. Tuochy said in a written statement.
While still considered "experimental" the strategy for now would likely be to vaccinate women over 40 — when breast cancer risk begins to increase and pregnancy becomes less likely. For younger women with a heightened risk of breast cancer, the vaccine may be an option to consider instead of preventive mastectomy, Dr. Tuochy said.
The hope was to have the preventive vaccine FDA-approved for human clinical trials this year, however the project is currently delayed while private funding is secured, Cleveland Clinic spokesperson Dan Doron said. "While the funding issue is being worked out Dr. Tuochy continues to work in the lab to improve the vaccine."
Several other clinical trials are underway for therapeutic breast cancer vaccines. The University of Arkansas is working on a therapeutic vaccine that tricks the body into producing cancer-fighting antigens, while Generex Biotechnology has had successful early phase trials with breast cancer patients on its therapeutic vaccine that sought out and destroyed cancer cells in HER-2/neu positive breast cancer patients.
Earlier this year, Seattle biotech company TapImmune announced it would sponsor a phase I clinical trials for an immunotherapy breast cancer vaccine focused on HER-2/neu positive breast cancer patients. The trial will test if the vaccine successfully blocks tumors in humans.
More information on Dr. Tuochy's preventative vaccine is available at: http://giving.ccf.org/site/PageServer?pagename=vaccine
Lynette Summerill, an award-winning writer and scuba enthusiast lives in San Diego, CA with her husband and two canine kids. In addition to writing about cancer-related issues for EmpowHER, her work has been seen in newspapers and magazines around the world.
Article Sources:
Cleveland Clinic. Online health chat transcript. 28 March 2011. Personal Interview with Dan Doron, 25 October 2011.
http://my.clevelandclinic.org/multimedia/transcripts/breast-cancer-vaccine-research.aspx
Breast Cancer Vaccine Shows Promising Results CBS News. 1 June 2010.
http://www.cbsnews.com/stories/2010/05/31/earlyshow/health/main6534772.shtml
National Cancer Institute Fact Sheet: Cancer Vaccines. 23 Oct. 2011
http://www.cancer.gov/cancertopics/factsheet/Therapy/cancer-vaccines
News Release. 3 March 2009. Generex Biotechnology Announces Treatment of First Patient with its Novel Immunotherapeutic Vaccine. http://www.antigenexpress.com/news_release.asp?NewsID=129
FDA Approves IND for First Clinical Trial: TapImmune signs sponsored research agreement with Mayo Clinic. 11 August 2011.
http://www.tapimmune.com/
Reviewed October 25, 2011
by Michele Blacksberg RN
Edited by Jody Smith