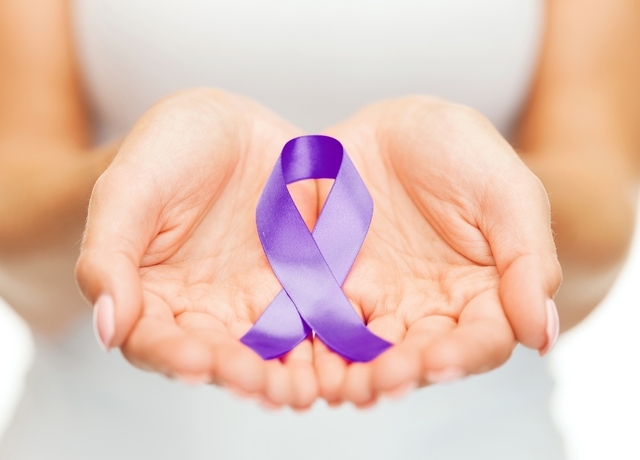 Lev Dolgachov/PhotoSpin
It's something in this world that doesn't discriminate, regardless of gender, sexual orientation or race. In its eyes we are all the same. But it's also one of the most deadly things in this world.
An estimated 1.7 million people will be diagnosed with cancer this year in the United States alone, and from that an estimated almost 600,000 deaths. That's 1.7 million people that are mothers, fathers, sisters, brothers and friends.
No matter what language you speak, people all over the world have been affected by cancer, either being diagnosed with cancer themselves or knowing someone that has been.
It's hard to think of something that one person can do to help, but cancer is 'Not Beyond Us.'
This isn't neighborhood cancer day, state cancer day or American cancer day. This is World Cancer Day, and sometimes all it takes is one small step to make a better place or mind-set.
Within every cloud there is a silver lining and that's exactly what World Cancer Day is meant to be, a positive and proactive approach to the ever-standing fight against cancer.
A little positivity can go a long way, especially when discussing a topic as sensitive as cancer.
We need to emphasize the fact that answers and solutions do exist, and they are within our grasp.
So what can you do to help raise awareness?
1) Hashtag like crazy
Raising awareness doesn't have to be extravagant and it can be done in little ways every day. Get on Facebook or Twitter and use the hashtags #worldcancerday and #notbeyondus.
Share your story, pictures or maybe even just some words of encouragement.
Change your Facebook cover image to the official World Cancer Day cover, which can be downloaded here, or change your Twitter cover image, which can be downloaded here.
2) Join in on a World Cancer Day event
Currently there are 656 events planned for today all over the world. Join in on one and show your support.
Use this map here, to search for events happening in your neighborhood. Awareness starts with one person and it's happening all around you.
3) Donate
Big or small, every donation counts.
World Cancer Day declared in 2013 a list of nine things they hope to achieve by 2025 and your donation goes toward progressing these goals and making a difference.
Including: (list courtesy of the World Cancer Day Declaration)
Strengthening health systems for effective cancer control
Measure the burden and the impact of cancer plans in all countries
Reduce the exposure to cancer risks
Universal coverage of HPV and HBV vaccine
Reduce stigma and dispel myths about cancer
Universal access to screening and early detection for cancer
Improve access to services across the cancer care continuum
Universal availability of pain control and distress management
Improve education and training of health care professions
To make a donation of any size, click here.
4) Wear your support
Go out and get some thin purple ribbon and safety pins to make awareness ribbons. It's a small act that will get attention, maybe even make a few extras to give out and spread the awareness to others.
5) Spread the Word
Rome wasn't built in a day, but awareness can be. We live in a time where the resources to make a difference are right in front of you on your computer.
If each person shares one thing it can make an impact on many.
World Cancer day has created five different posters (here) that are yours to use, print out or use digitally. Whatever you do, make it a goal to reach a wider network.
Share quotes or the campaign in general. Quotable quotes and access to soudbytes from the media campaign are available here, but they won't be seen without some effort on a large scale.
Know the facts and spread them! World Cancer Day has released fact sheets and evidence sheets here. Be informed and inform others.
Sources:
Cancer Facts and Figures 2015. American Cancer Society. Retrieved Feb.4,2015.
http://www.cancer.org/research/cancerfactsstatistics/cancerfactsfigures2015/index
World Cancer Day 2015: 'Not Beyond Us' Campaign Launched. UICC. Retrieved Feb.4,2015
http://www.uicc.org/world-cancer-day-2015-not-beyond-us-campaign-launched
World Cancer Day. UICC. Retrieved Feb.4,2015.
http://www.worldcancerday.org/sites/wcd/files/atoms/files/UICC_OnePager_WCD_FA_screen.pdf
Facebook Cover Image. World Cancer Day. Retrieved Feb. 4,2015.
http://www.worldcancerday.org/sites/wcd/files/thumbnails/image/140930_WCD2015_Facebook_coverimage.png
Twitter Cover Image. World Cancer Day. Retrieved Feb. 4,2015.
http://www.worldcancerday.org/sites/wcd/files/thumbnails/image/140930_WCD2014_Twitter_coverphoto.png
Events Map. World Cancer Day. Retrieved Feb. 4,2015.
http://www.worldcancerday.org/events-map
WCD Declaration. World Cancer Day. Retrieved Feb. 4,2015.
http://www.worldcancerday.org/wcd-declaration
Donate World Cancer Day. World Cancer Day. Retrieved Feb. 4,2015.
http://www.worldcancerday.org/donate-world-cancer-day
Posters. World Cancer Day. Retrieved Feb. 4,2015.
http://www.worldcancerday.org/posters
WCD 2015 Members Toolkit. World Cancer Day. Retrieved Feb. 4,2015.
http://www.worldcancerday.org/sites/wcd/files/atoms/files/WCD2015_MembersToolkit_EN_FA.pdf
Fact Sheets. World Cancer Day. Retrieved Feb. 4,2015.
http://www.worldcancerday.org/fact-sheets
Reviewed February 4, 2015
by Michele Blacksberg RN
Edited by Jody Smith